How to Clean Cloisonne Vases
Cloisonne is an enameling technique that uses metal banding -- commonly silver, gold or brass -- to separate areas of color and define shapes. Once the metal is formed into the artist's design and placed over a metal base, fine glass enamel crystals are layered and fired until the banded form is filled.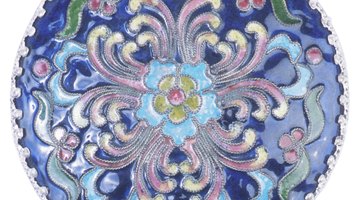 Cloisonne is used to create enameled jewelry, dishes, urns and vases. If you own a cloisonne vase, whether old or new, there are a few special techniques to keep it shining.
Wipe the vase with a clean, dry cloth to remove any dust. Never use any furniture polish, other cleaning polish or cleaning clothes imbued with a dusting agent when dusting your vase. Waxy build up from polishes will dull the vase.

Remove dirt or stains with a jewelry cleaner formulated specifically for enamel. Not all jewelry cleaners are the same. If you are unsure of what jewelry cleaner to buy, consult your local jeweler. Do not use any harsh cleaners containing acidic solutions such as bleach or ammonia.

Shine areas of tarnish with a jeweler's cloth. Work in gentle circles all over the surface of the vase. Use the cloth as often as desired, to maintain the shine of the metal banding. Some cloisonne may be sealed with a clear coat, preventing the metal from tarnishing. If you can feel the distinct ridges of the metal or depressions in the enamel, the metal banding is most likely exposed.
Things You Will Need
Clean, dry cloth
Enamel jewelry cleaner
Jeweler's cloth
Warning
Never soak your cloisonne vase. The enamel is porous and will absorb chemicals and water, causing discoloration and possible separation of the enamel.
References
Writer Bio
Transplanted Yankee Erin Watson-Price lives in Birmingham, Ala., and has been writing freelance articles since 1997. She worked as writer/co-editor for Coast to Coast Dachshund Rescue's newsletter, "The Long and the Short of It." In 2007 she obtained a certification as a copy editor. Watson-Price holds a Bachelor of Arts in creative writing from Southern Illinois University-Edwardsville.
Photo Credits
Hemera Technologies/PhotoObjects.net/Getty Images
Hemera Technologies/PhotoObjects.net/Getty Images
More Articles