How to Create a Distressed Finish on Furniture
A distressed finish can give just about any piece of furniture an antique appearance. This is a method of randomly removing paint from areas of the furniture to make it look as though it has been weathered over time. Manually applying this finish is way of making your furniture look rustic and aged, even if the furniture is brand new. With a few materials, you can create this finish on any piece of furniture in your home within a few hours.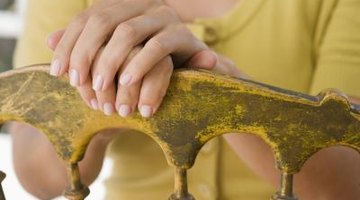 Step 1
Place the drop cloth on the floor of your work area, underneath the furniture you wish to paint. Choose an area that is well-ventilated. Make sure your furniture is clean and ready to be painted. Paint your piece of furniture the desired color of flat paint in the direction of the wood grain. Let the paint dry for at least 24 hours.
Step 2
Apply a thin layer of the paste wax to the furniture with a clean rag. Apply the wax evenly over the furniture, or apply it only in the areas you plan to distress. Remove any excess wax with the rag. Let the paste wax dry for at least one hour before continuing.
Step 3
Apply the wood glaze in any color of your choice to the furniture with a 2-inch polyester brush. Apply the glaze in the direction of the wood grain in the same manner you applied the flat paint. Let the glaze dry completely overnight, but do not let it dry for more than 24 hours before completing the distressed finish.
Step 4
Sand the furniture lightly in random areas to remove portions of the wood glaze. This will allow the paint color underneath to show through the sanded areas and produce a distressed look. Sand more firmly in areas that would normally have more wear and tear, such as corners and handles.
Step 5
Dust any loose sand away from the furniture with a clean rag. Continue sanding across the top of the furniture in random areas. Gently sand the edges along the legs of the furniture to enhance the distressed appearance. Sand with coarse grit sandpaper in some areas and with fine grit sandpaper in other areas for a more natural distressed look.
Step 6
Drag a wire brush across the surface to distress the wood even further. Concentrate on areas that would naturally lose paint through aging. Gently tap random parts of the furniture with a hammer to add small dents if you wish to make the furniture look more aged. Brush away all loose sand and cover the entire furniture with a clear coat to protect it. Allow 24 hours for the clear coat to dry.
References
Resources
Warnings
Don't distress the furniture beyond what normal aging would create; you will want it to look natural without adding too much damage.
Photo Credits
Jupiterimages/Polka Dot/Getty Images
More Articles