How to Repaint a Metal Table
Metal tables, especially those used in outdoor gardens and patios, can quickly rust and deteriorate from exposure to the elements. They should be checked periodically for fading and corrosion, and then cleaned and repainted as necessary. Follow these steps for removing rust from an old metal table and repainting it to look like new.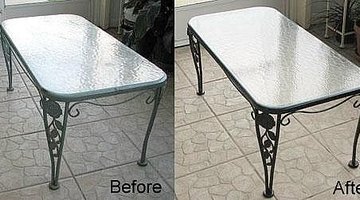 Remove glass top and other nonmetal accessories attached to the table.

Clean off all dust, dirt and debris from the table, paying special attention to the nooks and crannies. Check for bubbles and other irregularities because these are indications that corrosion is occurring underneath.

Use the file, sandpaper and metal brush to scrape off loose paint and rust. Pry the bubbled and irregular paint off and sand down all rusted areas. Finish off with fine grit sandpaper.

Wipe the sanded areas with a moist rag to reveal the bare metal. Allow it to dry.

Lightly sand over the old paint to promote adhesion of the new paint. Wipe off loose paint and sandpaper particles.

Invert the table on the drop cloth and spray a coat of color on all underside areas. Follow the paint manufacturer's instructions for spraying more than one coat. Allow it to dry.

Set the table upright and spray a coat of paint on the topside. Spray a second or third coat as desired. Allow it to dry.

Return the glass top and other accessories, and rest assured that your refurbished metal table will serve you well for a few more years.
Resources
Tips
Follow manufacturer's instructions on spray painting. Use spray paint only in well-ventilated areas.
Instead of spray paint, you can use liquid metal paint applied with a paintbrush.
Refurbish outdoor metal furniture as soon as signs of corrosion are detected.
Instead of a moist rag for wiping off the scraped paint and rust, use a rag dipped in vinegar or turpentine.
If preferred, apply an epoxy or metal primer before painting.
Warnings
Avoid spray painting on a windy day because paint particles could end up where you don't want them.
For safety, always wear protective gear: dust mask, gloves and eye protection.
Writer Bio
Ruby is a freelance writer by profession. She has written extensively about a wide variety of topics in print and online, but here at eHow, she shares her passion for home and garden. Whether it's housekeeping, home organization, do-it-yourself restorations, or creative renovations, chances are she's tried it herself. A big fan of power tools, always eager to get her hands dirty, and happy to answer questions, Ruby's always puttering around the house or digging in the garden.
Photo Credits
More Articles