How to Make a Tumbleweed Chandelier
You don't need wrought iron, fancy crystals or imported gems to have a gorgeous chandelier. You can make a tumbleweed chandelier. This option is not only cheaper than the traditional lighting devices, it is much more original. You can make it unique by your choice of paint colors, lights and chain with which you hang it. A few simple steps is all you need to make a tumbleweed chandelier.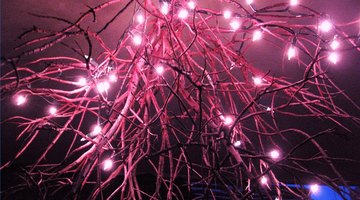 Get a tumbleweed. Choose one that is wiry and densely packed or with thicker branches and more spread out. The option is yours, depending on the look you want to create. Find tumbleweed rolling around the desert, on the sides of highways or even buy them online.

Clean the tumbleweed. Shake the tumbleweed so any loose branches, leaves, bugs or anything else nestled inside is dislodged. Spray down the gorgeous piece of debris with a hose. Scrape off any bird waste or other products that are stuck to your weed.

Paint the tumbleweed. Once your weed is clean and dry, pick a smashing color of spray paint. You can use one hue or shade it lighter and darker in different areas. Spray the weed thoroughly so no brown shows through or leave little snippets of brown for a more natural effect. Spray with polyurethane or other sealer once the paint is dry.

Affix a chain to the base of your tumbleweed and hang from a hook in the middle of a ceiling. You can use an old piece of costume jewelry, a cleaned off, broken bike chain or even buy chain in bulk at most hardware stores. Instead of a chain, use a heavy rope or cord.

Light it up. Take a string of holiday lights and carefully, gently string them around the tumbleweed. Wrap them in, around and throughout your tumbleweed. Use less for a dusty, western ambiance. Use more for a brilliant, star-like effect. String the end of the lights away from the tumbleweed across the ceiling and hook into place. Plug it in and, you've got yourself a tumbleweed chandelier.
Resources
Tips
Make sure your tumbleweed chandelier is hung high enough so it is not a nuisance. You don't need people banging their heads into it or knocking it down.
Be gentle! Tumbleweeds may look tough but pieces can break off if you are rough with them.
Warnings
Insure your tumbleweed chandelier is very securely hung. You don't need it blowing off in the breeze or tumbling around your yard followed by a string of holiday lights.
Don't leave the lights on for days on end unless you want a burnt up tumbleweed.
Photo Credits
Photo and tumbleweed chandelier.
More Articles