Clean Wax From Glass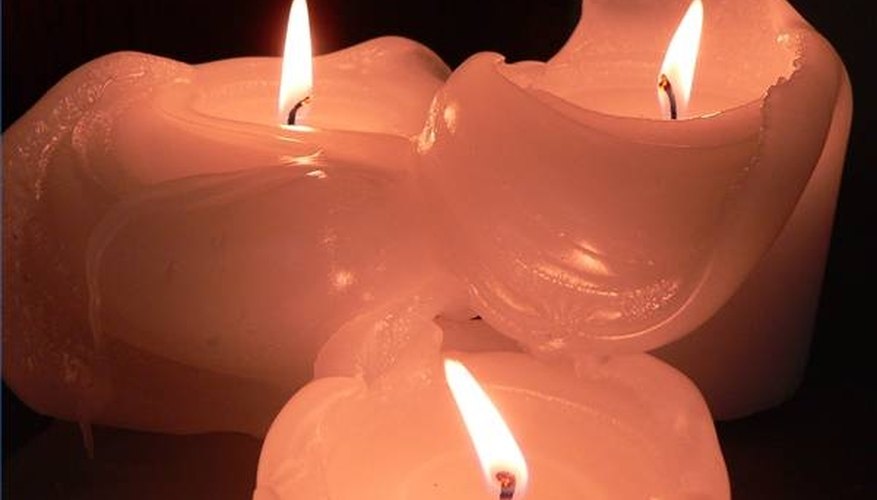 Unfortunately accidents happen and candle wax can spill on your glass tabletopor shower door and they can pool up in your favorite glass candle holder. Hot wax will not ruin your glass surface and it can easily be removed.
Place an ice cube on top of a small area of the wax to make it as cold as possible. Work in 1-inch sections.
Use your fingernails or a plastic spatula scrape off the brittle wax. Do not use metal to pry the wax off or it may scratch the glass. Continue icing and scraping until all of the wax build-up is removed. Your glass will still have some wax residue, but the bulk of the wax will be gone.
Make a solution of hot water and dish detergent. Using your sponge, wash away the remaining wax residue. Towel dry the glass.
Using crumpled newspaper, apply a thin layer of rubbing alcohol over the glass surface. This will remove any last remnants of wax from your glass surface.
Things You Will Need

Ice
Plastic spatula
Dish detergent
Hot water
Sponge
Rubbing alcohol
Newspaper
Tip
If you are using a glass votive to burn candles, place a few drops of water on the bottom of the votive before placing the candle in the votive. If you have wax stuck in a glass votive, place the votive in the freezer overnight. The wax will shrink. You will be able to easily pry out the candle with a spoon. This will also work for candle holders.