It marks the entrance to the sacred space within the shrine. This simplified version has been adapted to a Japanese garden as a beautiful architectural addition. Since it is not built on a massive entrance-type scale, I recommend it be utilized as a focal point in the garden.
This is a very simple project for your Japanese garden as it only uses 4 pieces of lumber. All assembly is done before placing the gate in place. First, lay out all the pieces as they will be assembled. The uprights are at an angle. Mark a spot 1 foot from the bottom of each, they should be 7 ft, 3" apart at that point, angling up to 5 ft, 3" apart at the top (measured from inside to inside), That should leave about 12" of the top bar sticking out on each end. Outline where the pieces overlap so you can cut them. Mark clearly what side you want to cut so you don't mix them up.
The landscape timbers are about 3" wide, so you want to cut about 1 and 1/4" deep on each piece so you can lap them together (see photo). Make a mark for the depth at that point so you can see where to stop. Make each cut, then take a hammer and wood chisel and clean out the wood that needs to come out. Good! The hard part is done.
Lay the pieces back together on the ground and make sure it looks right. Drill a hole through both pieces for the bolts (while they are assembled to ensure the holes line up). Cut the 2x4 to 6 ft, 10" long. It will be nailed across the back at 11" down from the top of the uprights. Mark where it goes. There will be about 4" exposed on each end.
OK, give all pieces a light sanding and go ahead and stain them all before you assemble. Set aside to dry for an hour or 2.
When the stain is dry, bolt the timbers together. Nail the crossbar on, ensuring it is even side-to-side with the top bar. Almost there!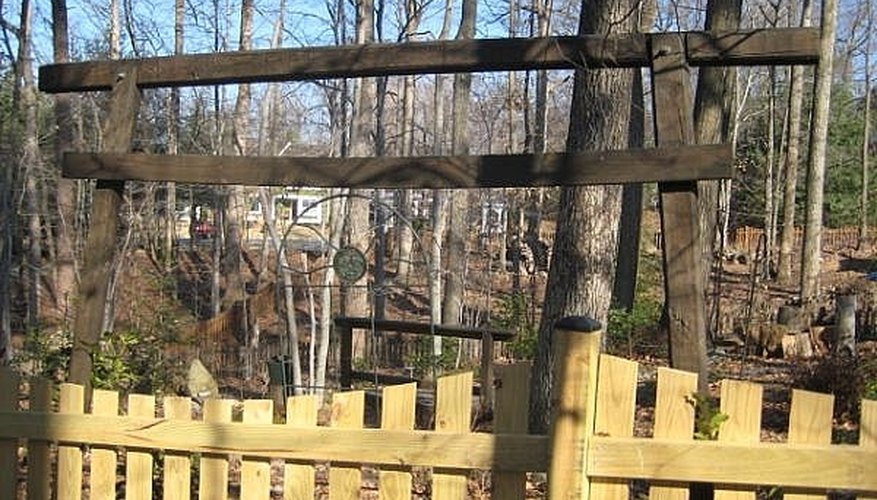 Move the gate to where you want to install it. Dig a hole 1 foot deep for each post (7 ft will be exposed). Since the gate isn't that massive, it doesn't have to be cemented in, but I recommend you use a half bag of cement on each post just for security (cement's only about $3 a bag). Double-check that the top cross bar is level (if your ground is uneven, make the crossbar level, not matching the slant of the ground). Let the cement dry overnight. Backfill and tamp down the dirt the next day.
Congratulations! You now have a beautiful and unique addition to your Japanese garden. I've found some great ideas in 'Serene Gardens' by Yoko Kawaguchi (see link below). Also check my related Ehow article "How to Make a Japanese Garden Gate in a Weekend" (link below).
Things You Will Need

Three 8 ft landscape timbers (3" by 4")
One 8 ft 2x4
10d nails
2 3/8" bolts with washers and nuts about 5" long.
1 gallon dark brown exterior wood stain
1 bag of cement
Tip
Select the straightest landscape timbers you can find. They have a tendency to warp, but you should be able to get some straight ones.