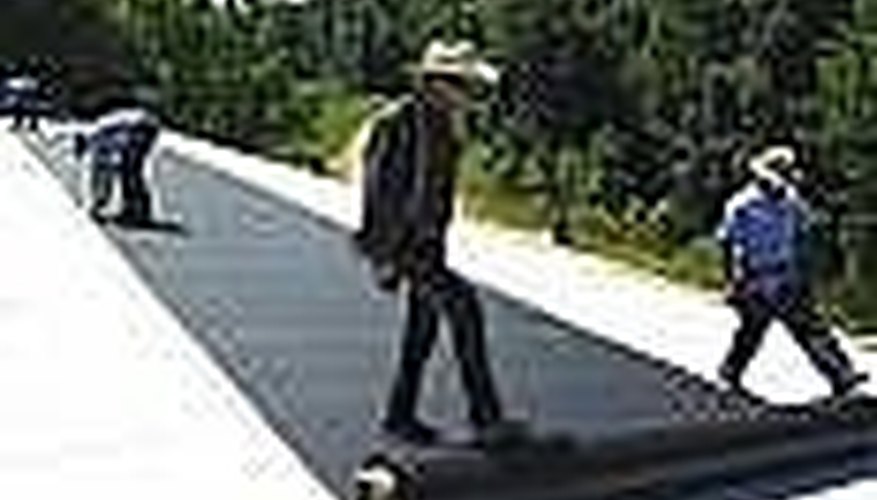 That's because it can be labor intensive and time consuming, especially for one person. That being said you can still shave $2,500 or more off a contractor quote by attempting this job yourself. If you have an extra set of hands and some familiarity with roofs (minor repairs etc. ) you might be a good candidate to lay a rubber roof.
Assuming you've already removed your existing roof material, check for any damp water spots on the now exposed plywood. You don't want to lay a rubber roof over water damage. The moisture will cause the roof to bubble up and separate from the adhesive, inviting the possibility of major water damage later on.
Begin to lay out your 4x8 insulation boards (aprox.$10 a board) screwing them down into the plywood. Use screws that are used with insulation that have metal plates (look like washers). Continue until the whole roof is covered with insulation boards. This step might be optional for you if you are roofing a smaller structure (like an open air garage) and need to minimize expenses.
Before applying an adhesive to the insulation, roll out your rubber sections and let them flatten out in the sun. This a good time to see how your first few sheets will overlap and to see if any holes will have to be cut for any vents or pipes. Make sure you apply your first roll parallel to your shortest roof dimension (so if your roof is 18 x 42ft you will start applying your first 10 x 20 roll parallel to an 18ft edge working your way across to other edge). Allow about two to three inches of the rubber sheet to overhang which will later be nailed or sealed to roof' s vertical edges.
Once the section has flattened out in the sun, roll it or fold it over half way. Apply adhesive with your paint roller on the now exposed edge (a 10x10 ft section using example dimensions above). Unroll rubber back onto adhesive using a heavy duty brush to push out wrinkles. Roll up the other section so you can apply adhesive to other 10x10 section. Unroll the rubber over the other half onto the adhesive brushing out wrinkles again as you unroll. If you have someone to help you they can start this same step on the opposite edge so you will meet somewhere in the middle.
Overlap the edge of your first rubber sheet (towards middle roof) by about 3 to 4 inches. Then you can repeat the process in step 4 where you fold over (or roll) half the sheet, apply adhesive, roll back out onto adhesive and brush out wrinkles going toward edges of roof. When the roof is covered you can go back and seal the overlapped seams. Lift up the overlapped edge. Using a paint brush, apply a seam sealer adhesive to both sides that will come into contact with each other at the point of overlap.
After about 3 hours use a weighted roller to really bond the rubber to the adhesive tightly (especially the seams). As an added layer of protection on the seams you can tape the seams with a 2 to 3 inch roll of rubberized flashing (with one adhesive coated side) like you are duct taping the seams. You might go through quite a few rolls this way but the seams are the most vulnerable to water and should be reinforced when possible. You can go over the seams again with the weighted roller when your done.
Now all there is left to do is nail the overhanging rubber to the sides of the vertical roof edges. Use roofing nails that have plastic plates built in. For aesthetic purposes you can cover nails with more rubberized flashing material.
Things You Will Need

a weather forecast of two to three dry days
4x8 insulation boards
10x20 or larger rolls of (EPDM rubber)
1/2 nap paint roller with long handle
cold application roof adhesive
several rolls of rubber flashing w/adhesive side
seam sealer adhesive
old paint brush
weighted roller (rental)
power drill for screwing insulation boards
Tips
the larger the surface area of your roof, the more you should lean towards having this job done by a professional. This do it yourself job will work best on a small garage where you will have fewer seams to deal with during installation.

Use liberal amounts of adhesive with rubber flashing when covering up openings vents/pipes.

Ask your hardware store dealer for help with estimating how much adhesive and other materials to buy for your particular roof dimensions.