Types of Tar Used in Roofing
According to Robert Reid in his book "Roofing & Cladding Systems: A Guide for Facility Managers," there are no less than 1,200 roofing systems available, with roofing being a multi-billion dollar industry in the United States alone.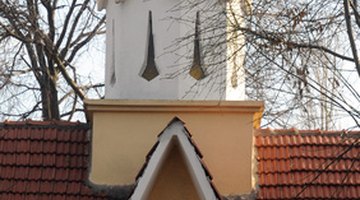 Roofing systems vary, depending on the age, weather conditions, size of the building and local roofing contractors available in an area. Tar is derived by the destructive distillation of trees and roots, and has been used for centuries to form a waterproof covering for roofs, ships and boats. It is one of the most extensively used roofing materials.
Coal Tar Pitch
Coal tar pitch is a specialized type of tar that is formed when coal tar is exposed to heat treatment. It has a melting point of 150 degrees Fahrenheit and appears as a dark brown residue. It is used for roofing, paving and drainage systems. Coal tar pitch roofing systems are resistant to water, chemical attack and oxidation. A coal tar pitch roof lasts anywhere between 30 and 40 years if periodically inspected and maintained. Additional preventive maintenance measures further extend the useful life of a coal tar pitch roof, such as record keeping (information on previous roof repair, installation date, type of roof and other roofing profile data), roof audits (semi-annual roof inspection to gauge any weather or other damage), familiarity of material compatibility rules in case of roof repair (such as not mixing coal tar pitch and asphalt in a kettle) and selecting a professional contractor for additional roof repair consultation.
Asphalt Roofing Tar
Asphalt roofing tar is used to make built-up roofing, roll roofing and shingles. Asphalt shingles come as individual pieces (hexagonal or rectangular), interlocking (for greater resistance to wind), laminated (thicker asphalt tiles) or strip. Roll roofing products are either saturated felt, smooth-surfaced, mineral-surfaced or specialty-eaves flashings. Roll roofing asphalt products typically have residential applications. Built-up roofing, or BUR, is commonly used in institutional, industrial and commercial roofing structures.
Coal Tar Bitumen
Coal tar bitumen, or type III tar, is the residue extracted from the distillation of petroleum. It is commonly used to make the protective membrane of roofing structures. Coal tar bitumen is used on roofs with steep slopes. Type III tar has higher equiviscous temperature (EVT)--the temperature at which coal tar bitumen attains the optimal viscosity, or thickness, for roofing applications--than other types of roofing tars. It is stiff and sometimes referred to as "steep" asphalt. The refining of coal tar bitumen takes longer than coal tar pitch. However, coal tar bitumen is more susceptible to weather conditions, less waterproof and durable than coal tar pitch. Due to these critical disadvantages, coal tar bitumen roofing structures are limited to steeper slopes and hot climates.
References
Writer Bio
Natasha Gilani has been a writer since 2004, with work appearing in various online publications. She is also a member of the Canadian Writers Association. Gilani holds a Master of Business Administration in finance and an honors Bachelor of Science in information technology from the University of Peshawar, Pakistan.
Photo Credits
Roof image by Juniperus phoenicea from Fotolia.com
Roof image by Juniperus phoenicea from Fotolia.com
More Articles