Cost of Chipseal Vs. Paving
Chipseal and repaving are two options for resurfacing an existing road or driveway. These methods can extend the life of a road or driveway, and avoid the cost of entirely rebuilding the pathway. Paved roads and driveways typically consist of a cement foundation with a layer of asphalt on top.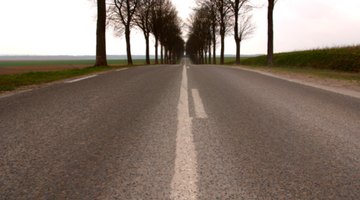 Chipseal
Chipseal is a common treatment applied to roads in good condition to smooth the driving surface. To chipseal a road, a construction crew spreads a thin layer of heated asphalt liquid on the road, followed by a thin layer of chips, or stones. A steamroller compacts the layer, and crews sweep away excess stones. This method extends the life of a road and waterproofs the underlying foundation. Chipsealing is generally not recommended for roads with crumbling foundations as it is a superficial repair.
Cost of Chipseal
Chipseal is inexpensive compared to other resurfacing options, costing about 75 cents per square yard in 2011. Chipsealing must be reapplied every five to eight years.
Paving
Asphalt is another method to resurface a road or driveway. Asphalt paving is a mixture of crude oil, stone and gravel, and the ratio of these materials impacts the durability and quality of the paving. Other materials, including water, tar and pitch, can be included in the mixture. To repave a surface, crews grind off the road's existing asphalt and apply and compact a new layer. This is not a full rebuild of a road. The material ground away can be recycled for future road projects.
Cost of Paving
Paving costs about $6 to $18 per square yard. Repaving can extend the life of a road by up to 15 years.
References
Writer Bio
Alane Michaelson began writing professionally in 2002. Her work has appeared in Michigan publications such as the "Detroit Free Press" and the "Flint Journal." Michaelson graduated from Oakland University in 2006, earning a Bachelor of Arts in journalism.
Photo Credits
Hemera Technologies/AbleStock.com/Getty Images
Hemera Technologies/AbleStock.com/Getty Images
More Articles