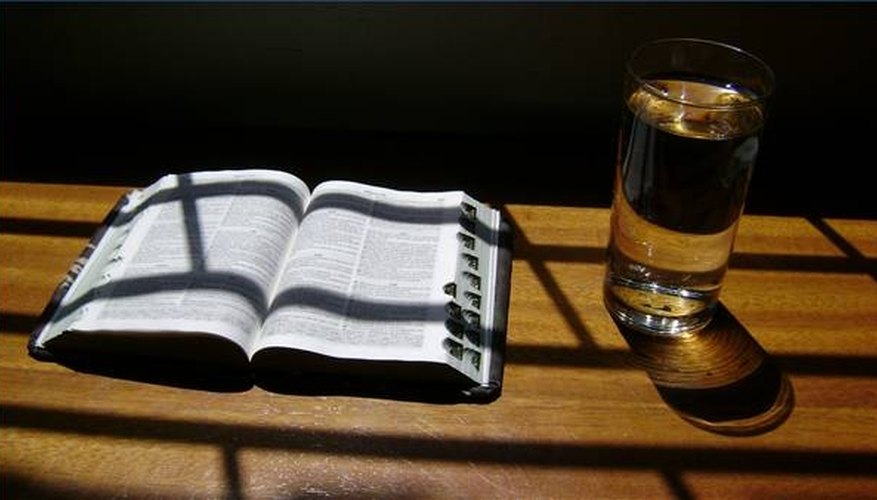 Liquid can permanently stain the area and sharp items can create scratches. One of the best ways to protect a table is by applying a varnish coat. Varnish comes in many varieties. According to woodworking. com, some of the most common are phenolic and alkyd resins as well as polyurethane. In addition, you can choose either a subtle satin finish or a high-gloss varnish. Taking the time to apply varnish to your table will go far toward extending its life and durability.
Stir the varnish with a paint stirrer until it is thoroughly combined.
Dip the paint brush into varnish so just the tip is covered.
Apply varnish to the table surface in long one-way strokes going with the grain of the wood. Be very careful not to create any drips. If this happens, simply remove the excess with the paint brush.
Allow the varnish to dry thoroughly. This can take anywhere from a couple to several hours depending upon the type of varnish, air temperature and humidity level.
Lightly sand the entire dried table surface surface using a fine grit sandpaper.
Rub the table clean with a tack cloth to remove any dust particles or other debris.
Apply a second coat of varnish as noted in Step 2 and allow the area to dry completely.
Rub fine steel wool over the surface of the varnished table to create a smooth finish.
Wipe the surface clean with a tack cloth to remove dust, debris and steel wool particles.
If desired, apply a third coat of varnish.
Things You Will Need

Paint stirrer
Natural hair paint brush
Varnish
Sand paper
Steel wool
Tack cloth
Tip
Do not run the brush in more than one direction or you will create excess air bubbles. Oil based varnish will not wash off with water. It can be removed form skin by rubbing mineral spirits or turpentine over the area.