How to Finish a Southern Yellow Pine Floor
Southern yellow pine comes from pine trees grown in the coastal region of the South. The wood ranges in color from deep cream to reddish/yellow. Although considered a softwood, southern yellow pine is adequate as flooring, and you can stain it to match the color of more expensive hardwood. Because pine contains high resin and sap levels that can make a finish look uneven, you must seal it before you apply stain. But in rustic cabin-type decor, southern yellow pine is sealed and finished without staining.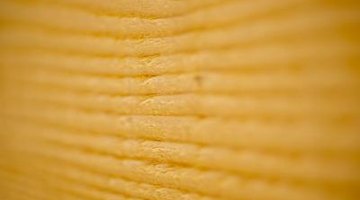 Step 1
Sand the unfinished yellow pine flooring with a random orbital sander. A handheld model will work, but you will save time -- and your back -- if you rent a walk-behind model from a construction rental store.
Step 2
Position the sander in the corner of the room, and turn it on, moving it down one floor plank and back on the next plank. Keep it moving. Sand the edge of the floor with 120-grit sandpaper.
Step 3
Seal the wood flooring with a pine sealer or a sanding sealer. Brush on the liquid as directed on the container, and let it soak into the wood. Brush in the same direction as the wood grain. Do not wipe off.
Step 4
Use a stain applicator pad to apply wood stain, smoothing on the stain in the direction of the wood grain and allowing it to remain for a few minutes. When the pine reaches the desired color, wipe off excess stain with soft, absorbent rags.
Step 5
Sand the entire floor after it dries completely with 220-grit sandpaper. Sand by hand, using very light pressure. This will smooth any wood grain that may have swollen during the staining process.
Step 6
Brush on an even coat of wood finish with a 4-inch natural-bristle brush. Begin in one corner and work your way along the length of the wood planks.
Step 7
Let the finish coat dry and apply one or more additional coats, letting each coat dry completely before applying the next one. For an extra-smooth finish, lightly sand the floor between coats with 400-grit sandpaper. This is polishes away any dust adhering to the wet finish.
References
"The Woodworker's Handbook"; Roger Horwood, 2003
Resources
Tips
Apply pine sealer even if you're not staining the pine. The sealer will keep resin from working out of the wood.
Writer Bio
Glenda Taylor is a contractor and a full-time writer specializing in construction writing. She also enjoys writing business and finance, food and drink and pet-related articles. Her education includes marketing and a bachelor's degree in journalism from the University of Kansas.
Photo Credits
Jupiterimages/Photos.com/Getty Images
More Articles