They provide a good sound barrier and allow room for ducts, pipes and cables so that they can be reached easily if they need repair. The basement ceiling height should be at least 7-1/2 feet, so make sure you'll have enough headroom before you proceed. Installation is done with common tools and can be accomplished in a weekend. .
Mark the wall 4 inches down from the ceiling joists around all four sides of the room. Make sure none of the joists are lower than the others. If they are, measure from the lowest joist. Use a level to draw a straight line connecting the marks.
Locate the wall studs and nail the perimeter moulding along the lines. Align the top of the moulding with the line. If the basement walls are concrete, screw the molding into place.
Install the main runners 4 feet apart perpendicular to the joists by setting the ends into the perimeter moulding. If the runners do not fit evenly in the space, offset them around the edges so that smaller tiles can be placed around the edge of the ceiling.
Use small screw eyes and 16-gauge wire to provide support for the runners from every third joist. Loop the wire through the screw eye, attach it to the runner and twist it 3 or 4 times. Use a string line as you work across the ceiling to make sure the runners are even.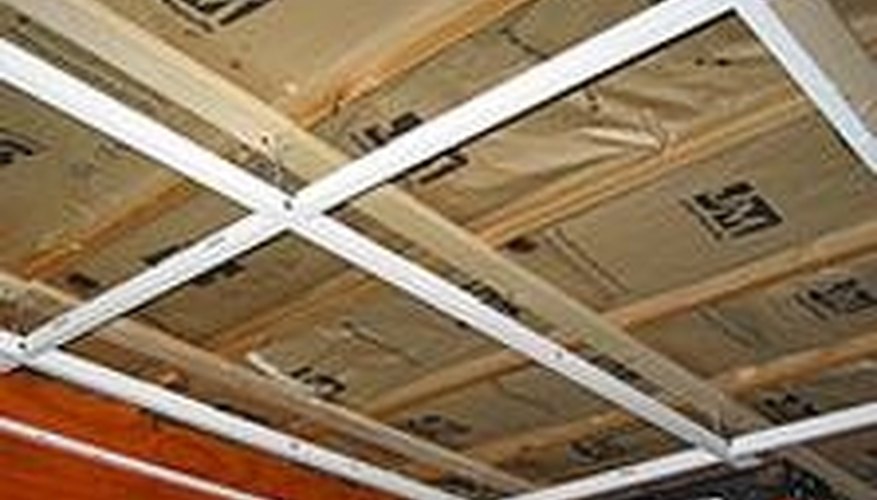 Hook the cross tees, or cross runners, 2 feet apart along the runners. If they don't fit evenly, leave a space around the outside. Slide the center panels into place to help keep the grid square. Cut cross tees to fit the outside space and install them.
Cut panels with a utility knife with the finished side facing up to fit into the spaces around the room. Finish installing the panels.
Things You Will Need

Grid system sized for the space
Panels
Level
Nails or screws
Screw eyes
16-gauge wire
Tin snips
Utility knife
Tip
Measure 6" below the joists if you intend to install fluorescent fixtures in the ceiling.