How to Build a Basement Sub-Floor
While a basement with a concrete floor is readily adaptable, installing a sub-floor creates air space and raises the floor to prevent moisture damage to your desired flooring material. A frame of 2-by-6-inch beams works best, covered with a sheathing of 1/2- to 3/4-inch plywood. Once a sub-floor is installed, tile, hardwood or carpet can be laid over it to turn a drab basement into a usable guest, family or media room.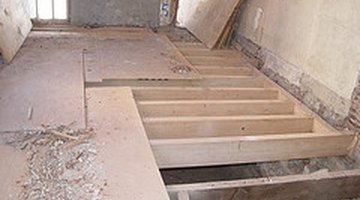 Seal existing floor, if concrete, and cover with felt paper. Seal walls with epoxy-based sealer before beginning sub-floor installation.

Measure and cut 2-by-6-inch treated lumber to form a snug frame around the perimeter. Space the sleepers no further apart than 18 inches, splitting the difference on each end. Joist hangers can be used on the ends to hold the beams in place -- check with a level and tape measure constantly to ensure beams are plumb and level.

Cut cross beams if necessary and install at 12- to 18-inch intervals, using galvanized 1 1/2-inch screws and staggering beams to allow room to maneuver. Drive nails in at an angle to secure to end beams. Continue checking for plumb and level until all sleepers are in place.

Install sheets of plywood by screwing flat or nailing to beams. Cut to fit around perimeter, and space fasteners close enough that there will be no possibility of buckling or warping.

Sand any rough edges, and fill gaps with wood putty. Seal with a moisture resistant barrier for extra protection. The sub-floor can now be covered with the desired flooring.
References
Tips
If walls are concrete, a ram-set may be needed to attach joist hangers. Alternately, sleepers can be shimmed level and attached to concrete floor with a ram-set.
Warnings
Lumber used must be treated to avoid rot in humid or damp climates.
Writer Bio
Grace Alexander has been a full time freelance writer for 2 years, creating, editing and proofreading content for web and print publications through Elance.com. She also serves as an editor, channel steward, title seeder and fact checker at Helium.com. Home Improvement is one of her writing niches.
Photo Credits
Photo courtesy of Flickr user larrylove2008 http://www.flickr.com/photos/larrysellsrealestate/2529399257/sizes/s/
More Articles