How to Frame a 45 Angle in a Deck
A 45-degree angle at the corner of a deck adds a bit of pizzazz to your project. Your deck plans will almost certainly call for two beams to meet under the corner, doing the job of supporting joists that project over the beam. This projection, called a cantilever, gives you the working room you need to nip off the ends of the joists and create a 45-degree angle.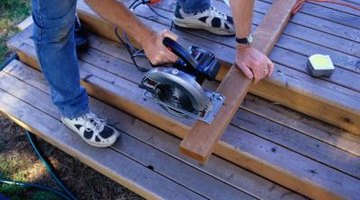 Step 1
Construct a regular square-cornered frame for your deck, with joists, typically 2-by-6 dimensional lumber, running from the ledger under your patio door to a rim joist at the far end of the framing.
Step 2
Measure an equal distance from the corner of the framing, where the rim joist meets the end joist, as the final regular joist is called. Follow your deck plans, noting the length of the area cut away to create a 45-degree angle. Mark this distance on the rim joist and the the end joist, and carry this mark down the face of the joists with a carpenter's square. Cut a 22 1/2-degree miter through the rim joist and the end joist with a circular saw.
Step 3
Snap a chalk line between your miter cuts across the intermediate joists. Mark each face of the intermediate joists with the carpenter's square and miter them with the circular saw.
Step 4
Measure and cut a new rim joist to run across the cutout area, with 22 1/2-degree angles at each end. Screw the surface of the rim joist at each mitered end into the joists. Screw through the intermediate joists into the back of the rim joist at an angle; this process is called toe-screwing and hides the fasteners from view.
Writer Bio
An award-winning writer and editor, Rogue Parrish has worked at the Washington Post, the Baltimore Sun and at newspapers from England to Alaska. This world adventurer and travel book author, who graduates summa cum laude in journalism from the University of Maryland, specializes in travel and food -- as well as sports and fitness. She's also a property manager and writes on DIY projects.
Photo Credits
Ryan McVay/Photodisc/Getty Images
More Articles