How to Build a Deck Frame for a 10X14 Shed
Small sheds often use a concrete slab as a floor. If you're using wood as a deck, it requires a level foundation or piers to support the floor deck. According to Popular Mechanics magazine, the floor is the most important part of the shed structure and warrants the highest quality materials. A do-it-yourselfer with moderate skills ands standard tools can build a quality floor deck for a shed.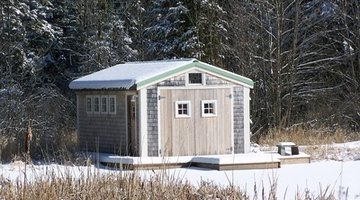 Lay out the foundation for the shed and mark the building corners with stakes or paint marks and place the foundation materials in place. Solid concrete blocks or pressure-treated wood beams or timbers are often used. Place the foundation pieces evenly under the planned shed space with the foundation supports providing contact on at least two points on each side of the 10-by-14-foot deck frame. Level the skids or blocks in both horizontal directions using a 4-foot carpenter's level.

Build a frame of the floor deck. Use 2-by-6-inch treated lumber to build a 10-foot by 14-foot perimeter frame. Connect the corners with three 16d box nails at each corner.

Measure distance between the two 14-foot perimeter boards. Cut 13 2-by 6-inch treated boards to this length. These boards will be the floor joists.

Locate the positions for each floor joist on each side of the 14-foot long perimeter frame. Start measuring at the outside of one of the end pieces and mark at 16-inch intervals.

Nail the floor joists to the perimeter frame pieces, centering the top of the floor joist on the mark from the previous step. Use three 16 box nails at each end of each floor joist.

Cover the floor joists with 3/4-inch exterior grade plywood. Nail the plywood to the joists and framework with cement-coated size 8 nails. The cement coating serves as a glue to hold the nails firmly in the joists.
References
Tips
Position the timbers or cement blocks of the foundation high enough to allow air circulation under the framework of the floor deck structure. The air circulation helps dry out the materials and prevent decay of the wood.
Warnings
Build large sheds, usually larger than 200 square feet, on permanent concrete foundations, according to Popular Mechanics magazine. Also, check all local building and zoning ordinances and acquire any necessary permits before starting any building projects.
Writer Bio
Keith Allen, a 1979 graduate of Valley City State College, has worked at a variety of jobs including computer operator, medical clinic manager, radio talk show host and potato sorter. For over five years he has worked as a newspaper reporter and historic researcher. His works have appeared in regional newspapers in North Dakota and in "North Dakota Horizons" and "Cowboys and Indians" magazines.
Photo Credits
More Articles