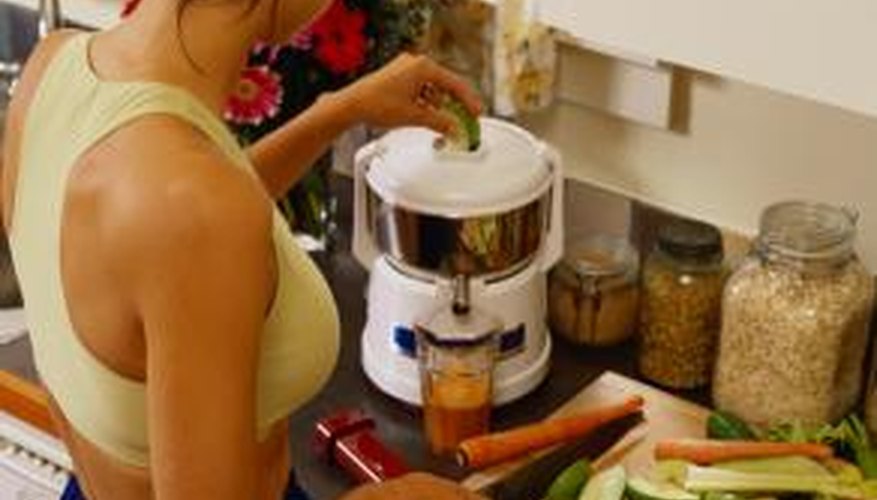 A power juicer offers a good alternative to buying expensive health drinks that sometimes contain sugars and preservatives. You can use a fruit juicer or a vegetable juicer with your diet plan and make all sorts of healthy drinks at home. Options include fruit juicers, vegetable juicers, citrus juicers, wheatgrass juicers and commercial juicers. When you start shopping for a power juicer, examine several factors to determine which juicer will work best for you.
Step 1
Evaluate your kitchen space before you buy a power juicer. Large power juicers take up lots of real estate. If your countertop can accommodate the space, the larger size power juicers are ideal because they produce more juice and usually have more uses. If your kitchen is too small for a big power juicer, then you can always purchase a smaller handheld type. Besides space, also try to find a fruit or vegetable juicer that matches the look and design of other nearby appliances.
Step 2
If you plan on juicing both fruits and vegetables, then buy a power juicer that does both. It's always best to buy a power juicer that has more uses. Centrifugal juicers are some of the best power juicers for almost any kind of fruits or vegetables, with the exception of spinach, lettuce and wheatgrass. If you need a power juicer that can process those vegetables, then consider a wheatgrass juicer that has single blades or twin blades. Power juicers with single and twin blades are easy to clean after processing these types of vegetables in the juicer. Also look at masticating juicers. They're very efficient and have many uses, but are also pricey.
Step 3
Go online and visit sites that sell power juicers so you can compare the features. Look at the yield of a power juicer. This will give you an idea of the output and efficiency of the power juicer. A quality juicer machine will give you less waste and more juice, so a power juicer with a power output of about 420 watts is a good choice. A power juicer with a higher powered motor will produce more heat, which can damage the juice by oxidation, discoloring the juice and affecting its taste.
Step 4
Buy a power juicer with quality blades. A power juicer with poor quality blades will obviously affect the performance of a power juicer, so it's wise to pick one with good blades. The blades of a juicer machine will probably have to be replaced every two to four months, so it's important to make sure that you'll easily be able to get blades for your power juicer when the time comes. Both the masticating juicer and centrifugal juicer have good blades. Centrifugal juicers use flat-cutting blades that rapidly shred with high speed and tough force. A masticating juicer has quality blades that are good for grinding and squishing the juice out of fruits and vegetables.
Tips
Select a power juicer that has multiple uses.

Research consumer power-juicer reviews.

Buy a power juicer that has replacement parts available online.

If you plan on using a power juicer frequently, buy a juicer machine with a good warranty.