Instructions for a Rival Ultra Handheld Blender
Manufactured by Rival, the Ultra Blend is a small hand-held blender that can be used to blend, puree and mix a variety of ingredients and recipes. It features two speeds, an ergonomic handle and a small blade so you can mix drinks right in your glass. If you've misplaced your instruction manual you may be confused on how to use it, but you can still use your hand-held blender safely and effectively.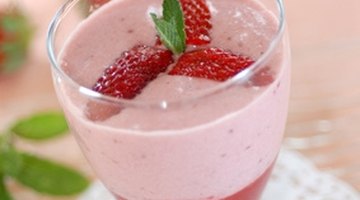 Plug cord into an electrical outlet.

Add the recipe ingredients into an appropriate container. Fill the container 2/3 full to reduce spillage.

Place the blade end of your blender into the bottom of the container with the ingredients.

Press "LO" or "HI" switch to turn on the blender. You must hold down the button for continuous blending, and the unit will turn off when you release the button. Move the blender around the container, or up and down in a glass while mixing. Do not remove the blender from ingredients while blade is in motion. This blender works fast. Check the consistency every few seconds to prevent over-blending.

Use the "LO" setting to mix gravy, sauces and thin batters.

Hold down "HI" to puree soups and cooked vegetables, blend iced drinks and milk shakes. Add one ice cube at a time when blending icy drinks. This blender is not designed for heavy loads; blending stiff dough, cold cream cheese or butter could damage your blender.

Press and release the "LO" or "HI" buttons quickly to pulse. Use this method when blending soups, salsa or recipes with fruit or ice, allowing the solid pieces to fall down toward the blade. Doing this before continuous blending on "HI" will put less strain on the blender's motor and extend its life.

Unplug the unit when you're finished using it.

Place the blade under hot water immediately to clean the unit after use. Wipe off the motor, handle and cord with a damp cloth.
References
Rival Ultra Blend Hand-Held Blender User's Manual
Tips
Cut solid foods into 1 inch cubes before processing.
This blender won't whip egg whites stiff, grate cheese, chop or juice fresh fruits and vegetables or grind coffee beans or nuts.
The unit will stop if the blades are stuck. Unplug the blender and remove the ingredients with a spoon or spatula.
Add the liquid ingredients last for best results. If mixing a powdered drink, add powder after liquid.
Place cookies, crackers or bread into a plastic container or a heavy plastic bag and blend on the "HI" setting to make cookie, cracker or bread crumbs.
Warnings
Keep away from children.
Blades are very sharp. Handle the unit carefully.
Don't use the blender if the unit or cord has been damaged.
Keep fingers and silverware away from the spinning blade.
Don't immerse the motor, cord or plug in water.
Do not mix ingredients on a hot stovetop. Remove the pan from the heat first.
Writer Bio
Tess Reynolds began writing in 2010 for various websites, specializing in parenting, relationships, film and video-editing topics. She has taken private local classes to expand on her interests. She also enjoys writing about computers, family and home improvement.
Photo Credits
milk-shak à la fraise image by razorconcept from Fotolia.com
More Articles