How to Remove One Way Screws on a Dead Bolt Lock
Dead bolt locks are made with safety in mind, so they are difficult to disassemble and remove from a door. One of the major obstacles one would come across when trying to take off a dead bolt lock is the one-way screws that hold the two halves together. The screws are made so they can be screwed in with a screwdriver, but the head is rounded off on the opposite side, so there is no way to remove them with a screwdriver. These types of screws are also used on bathroom stalls and cubicles. While there is no efficient way to remove the screws without causing damage to them, they can be taken out with common tools.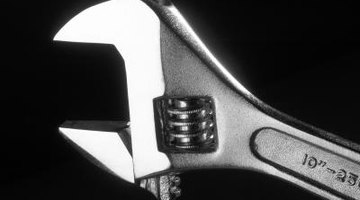 Step 1
Insert a 1/8-inch drill bit into a drill. Do not use any other size than this. A bigger drill bit will damage the entire lock set, and a smaller drill bit will not be effective. The one-way screws on the inside of most household dead bolts are 1/8 inch.
Step 2
Position the drill bit in the center of the screw head.
Step 3
Turn on the drill and push firmly. Drill until the bit is all the way through the head and starts to go through the body of the screw.
Step 4
Pull the drill out. Since the drill bit is the same size as the screw, the screw head should automatically fall off on its own. If the head is still hanging on by a piece, pull it off with a pair of pliers. With the screw head out of the way, the deadbolt can be pulled apart.
Step 5
Pull the two halves of the drill bit apart to gain access to other side of the one-way screws. They can be unscrewed by hand.
Writer Bio
Kenneth Coppens began his freelance writing career in 2008. His passions in life consist of extensive personal research on food, gardening and finding natural and eco-friendly alternatives to nearly all aspects of life.
Photo Credits
Hemera Technologies/AbleStock.com/Getty Images
More Articles