How to Get Rid of Water Rings on Wood With Mayo
Your fine wood coffee table now has a water ring from somebody setting down an icy-cold drink without a coaster, or your cedar chest has a water mark from over-watering a plant. Mayonnaise is a traditional remedy for getting rid of water rings on wood. The sooner you apply the mayo, the easier time you'll have getting the water mark off, but this substance works even on long-time water rings on wood.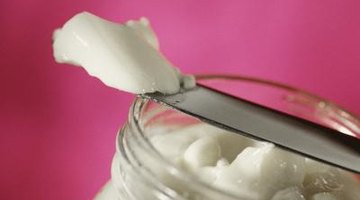 Step 1
Wipe away any water that's still there with a paper towel or absorbent cloth.
Step 2
Spoon a generous amount of mayonnaise onto the water mark and rub it in with your fingers or a paper towel.
Step 3
Allow the mayo to remain on the water ring for at least an hour.
Step 4
Wipe off the mayonnaise with a paper towel. The ring should be gone. If it's still visible, apply more mayo and leave it on for several hours or overnight.
Step 5
Add baking soda or ashes to some mayonnaise if you can still see any of the water ring. Cigarette, cigar or fireplace ashes will do. These items all add a touch of grit to the mayo. Use a damp cloth to gently rub the mixture onto the water rings. Let stand for several hours and then wipe away.
References
Resources
Tips
Use full-fat mayo for best results.
Writer Bio
Shelley Moore is a journalist and award-winning short-story writer. She specializes in writing about personal development, health, careers and personal finance. Moore has been published in "Family Circle" magazine and the "Milwaukee Sentinel" newspaper, along with numerous other national and regional magazines, daily and weekly newspapers and corporate publications. She has a Bachelor of Science in psychology.
Photo Credits
Jupiterimages/liquidlibrary/Getty Images
More Articles