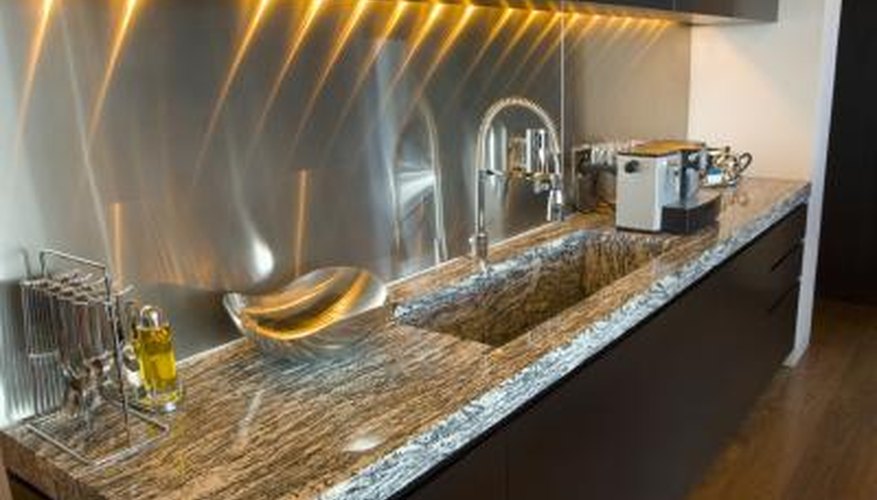 But the expense of purchasing a stainless steel sink and the added costs of having it installed, may leave you wondering about the best way to keep your investment looking its best. Although stainless steel is highly durable and rust-resistant, it can still stain. Stainless steel can also develop areas of discoloration if not maintained properly. Scratching and warping may also result if the stainless steel sink does not receive the basic care it requires.
Step 1
Clean your stainless steel sink with a non-abrasive cleaner and a multipurpose, no-scratch scrubber sponge. Cleaning with these items will not harm the finish and keep the stainless steel smooth and free of scratches.
Step 2
Rinse the stainless steel sink out with running water after disinfecting with bleach products, detergents, liquids or powdered soaps. All of these products can leave behind residues that may stain or corrode the stainless steel sink. Make sure that you rinse out all of your sponges, rags and cleaning pads, as well.
Step 3
Dry the sink when you are through washing your dishes. After you rinse the sink out, use a soft towel to dry it. Drying the sink will keep it free of tap water stains. Most tap water contains minerals that can ruin the stainless steel finish.
Step 4
Protect the bottom of your stainless steel from scratching and staining, with a rubber sink mat. The rubber sink mat will keep utensils, dishes, glasses and food off the surface of the stainless steel. This way, a handful of silverware thrown into the sink will not scratch the surface.
Step 5
Allow hot pots and pans to cool before you place them in your stainless steel sink. Pots and pans that go from the hot stovetop to a room temperature sink can cause warping and staining.
Things You Will Need

Non-abrasive cleaner
Multi-purpose, no-scratch scrubber sponge
Soft towel
Rubber sink mat
Tips
You can remove the stains that develop as a result of hot pots and pans placed on the stainless steel. Place a squirt of dish soap on a no-scratch scrubber sponge and pour club soda over the stain. Rinse and dry the stainless steel sink once the stain has disappeared.

Stainless steel cleansers, sold in most supermarkets, home improvement centers and hardware stores, can keep your stainless steel sink shining like new.