How to Solder Aluminum Thin Wall Tubing
The difficulty of removing the oxides makes soldering aluminum difficult. Aluminum conduit, made from 6xxx series aluminum with a magnesium alloy, poses a more difficult problem. According to a 2010 article by A. E. Gickler in the American Welding Society's online magazine, "the 6xxx (silicon and magnesium added) series may or may not be solderable depending upon the individual alloy." And since aluminum thin wall tubing (EMT) isn't designed to be soldered, you have to experiment to see if you can solder your particular alloy.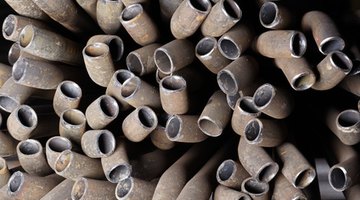 Clean off any dirt, paint, oil or grease from the conduit with solvent and a rag.

Apply flux to the areas to be soldered. Place the surfaces so that they are touching, since solder will not fill gaps.

Thoroughly heat the area with your torch.

Touch your solder to the aluminum joint. If the solder melts instantly, the joint is hot enough. If not, continue heating. Do not melt the solder with the torch. The hot aluminum has to melt the solder directly.

Watch the solder as it melts. If your flux and solder suit your particular alloy, the solder should flow onto the aluminum and seep into the joint. If it just rolls off, experiment with different fluxes and solders. There is no guarantee you will find a solder that works.
References
Tips
Try an organic amine-based flux or an inorganic chloride or fluoride flux with a soft solder made of 95 percent tin and 5 percent zinc. You can also try a complex fluoroaluminate salts flux with zinc-based hard solder.
Allied Aluminum makes a thin wall of 6005 series aluminum, and rigid conduit of 6063, but does not give soldering specifications on its data sheet, as it is not designed to be soldered. It does provide coupling hardware.
EMT stands for electrical metal tubing.
Warnings
Since aluminum has a relatively low melting point, overheating it may cause it to warp. Only heat it enough to melt the solder.
Work in a well-ventilated area, because your solder and fluxes may give off toxic fumes.
Even if you are successful in soldering aluminum thin wall with a tin-based solder, it may slowly react with the aluminum and corrode over time.
Writer Bio
Richard Asmus was a writer and producer of television commercials in Phoenix, Arizona, and now is retired in Peru. After founding a small telecommunications engineering corporation and visiting 37 countries, Asmus studied broadcasting at Arizona State University and earned his Master of Fine Arts at Brooklyn College in New York.
Photo Credits
tubing background image by Andrey Kiselev from Fotolia.com
More Articles