How to Build a Banquet Table
Whether it's a wedding, a big birthday party or just a family get-together, banquet tables are a staple of every large gathering. They line up neatly and seat eight to 10 people comfortably. However, renting them can be time-consuming, and buying ready-made tables can be expensive. By building a simple table that can be covered up with a tablecloth, you can save time and money.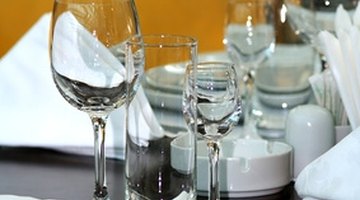 Visit an electrical parts distributor's warehouse and buy two cable reels, which are round wooden cylinders that hold very large lengths of wire. You need them to be 29 inches wide and 25 inches in diameter.

Buy one sheet of 3/4-inch thick plywood measuring 6 feet long. Cut the sheet so it is 30 inches wide. Place the reels 1 foot apart to form the base of the table. Lay the plywood top on the table to create a standard sized 6-foot by 30-inch rectangular table.

Use four screws measuring 2 inches long each to attach the plywood to the cable reels. The finished table will have 8-1/2 inches of overhang on each side and 17 inches at each end.

Cut four pieces of 3/4-inch molding to cover each of the four sides of the plywood. Two pieces of molding will be 6 feet long, and the other two will measure 30 inches long. Nail them to the edges of the plywood to prevent the raw edge of the plywood from snagging the tablecloth.

Cover the table with a floor length banquet table cloth to hide the cable reels. If desired, staple plastic padding to the top of the table for easier cleanup.
Check out this related video.
References
Photo Credits
Banquet table / Dinner Place Setting image by Taiga from Fotolia.com
More Articles