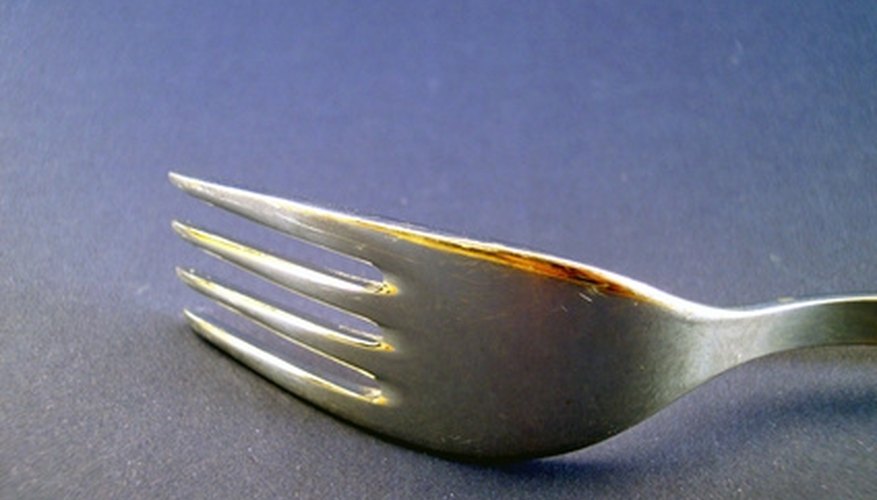 Stainless steel is naturally stain resistant, but it may dull with time. If left wet, streaks and water spots remain on stainless steel. Removing them isn't hard though, with a few quick steps.
Cut a lemon in half. Rub the lemon over pots and pans with hard water stains (white film or spots). The acid in the lemon cuts through the mineral deposits in the spots. Wait 10 minutes, and rinse under running water. Dry thoroughly with a soft cloth.
Pour 1/2 cup vinegar into a spray bottle. Fill the bottle with water. Spray the diluted vinegar onto any stainless steel surface. Wait one to two minutes and wipe off. The vinegar cuts through grime, removes water spots and leaves your stainless steel shiny.
Mix 1/2 cup baking soda with 1/4 cup water for tough stains. Stir with a spoon to make a thick paste. Apply to the stains, and rub with a cloth. Rinse with running water, and dry thoroughly.
Things You Will Need

Lemon
Knife
Vinegar
Baking soda
Soft, clean cloths
Tips
Clean regularly with a glass and surface cleaner or a stainless steel cleaner. Regular maintenance will prevent water spot build up.

Always dry dishes immediately or run the "dry" cycle on your dishwasher to prevent spots.

Don't spill dry dishwasher soap onto flatware. Dark spots will remain.

Don't use harsh abrasives or chlorinated cleansers on stainless steel.

Don't overheat pans on the stove or allow them to boil dry.

Don't soak stainless steel pans overnight. Doing so will pit your pots and pans.