How to Upgrade your Old Coffee Table with Peel-N-Stick Vinyl Tile
Upgrading your old coffee table is a cost-effective way to create a completely new piece of furniture without much expense. Customizing your coffee table with peel-n-stick vinyl tile will quickly help you achieve the look you want. Peel-n-stick tiles are self-adhesive and require no additional glue. These tiles stick firmly to most flat surfaces and are very difficult to remove. The tiles are usually 12 by 12 inches square and are sold in a variety of designs and colors. This peel-n-stick design method works well on wood coffee table tops.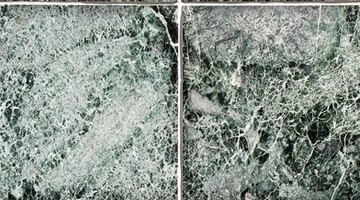 Start laying out your pattern. If your table top measures perfectly with the size of the tiles, lay the tiles out from the top edge of the table and work your way out and around the table until it's covered; butt the edges of the tiles against each other so that they will be snug and lined up.

If your tile does not fit the top of the table perfectly, start your tile placement from the center of the table. After you place your tile in the center, measure around the center tile to make sure that the area around it is even on each side. Use your wax marking pencil to make reference lines around the center tile so that you'll know where to place it. Arrange the tiles around the center tile and mark where the tiles need to be cut; cut the tiles with the utility knife or scissors before you start to lay them.

Peel off the paper backing for each tile one at-a-time, exposing the adhesive. Lay the tiles on the top of the table, placing each tile where you want it permanently.

Butt each tile against each other, and line them up evenly so that you can clearly see the pattern/design of the tile. Slowly press each tile down into the top of the table to make sure that it's securely stuck. Wipe off any sticky residue from the tiles and enjoy your new coffee table.
Tips
Measure the table top area (length and width) that you're planning to cover so that you'll know how many pieces of tile to buy. Go to your home improvement store and choose a tile color and design that will complement your living space.
Wood glue can be used for permanent placement.
You can also use ceramic floor tiles or glass tiles on your table top.
Warnings
If the tiles are not sticking properly, use wood glue on the back of each tile.
Photo Credits
More Articles