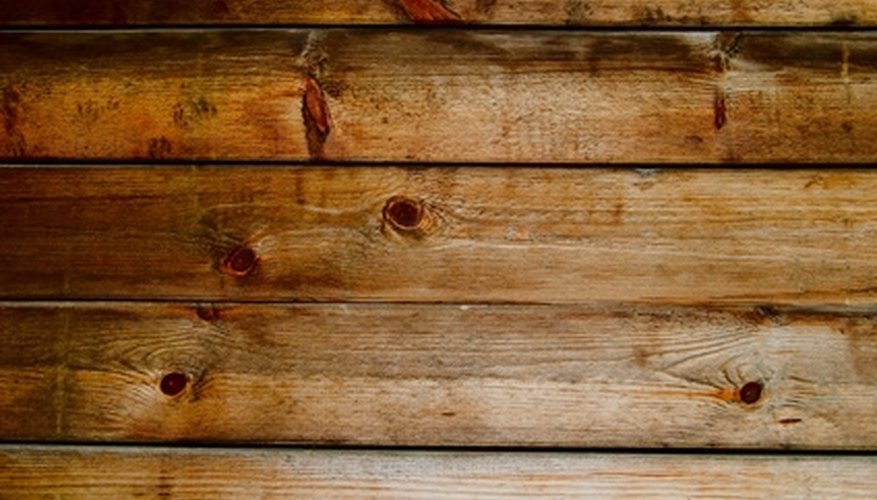 Simply refinishing the floor with polyurethane doesn't restore the oil in the floor. Instead, these products sit on top of the wood, creating a barrier between the wood and the surrounding environment. Urethane finishes work well, but they are prone to fading, peeling and cracking. Restoring oil, such as Tung oil, to hardwood floors requires many coats of penetrating oils that sink deeply into the wood grain of the floorboards.
Scuff sand the floor with a drum sander using 220-grit sandpaper. Sanding removes the old finish on the wood.
Clean the surface with a wet/dry vacuum, cleaning all the sawdust and debris off the newly sanded floor. After vacuuming, run a tack cloth along the entire surface of the floor to pick up any remaining sawdust.
Put on knee pads. Restoring oil to hardwood floors takes three to four coats for optimum protection and beauty. Protect your knees with a pair of quality knee pads.
Pour the Tung oil directly on the floor. Be sure to pour the oil in a workable, 3X5-foot area to maintain an even finish.
Rub the oil into the floorboards. Using a clean, soft rag, rub the oil into the wood in a circular motion until all the oil penetrates into the wood grain. Using a circular motion ensures the Tung oil penetrates the wood grain from all angles.
Repeat steps 4 and 5 until you apply three to four coats of Tung oil on the floors.
Things You Will Need

Drum sander
220-sandpaper
Wet/dry vacuum cleaner
Tack cloth
Knee pads
Tung oil
Soft rags
Tip
Always use protective pads on furniture and heavy appliances. After you restore the oil and shine to your hardwood floors, protect them from scratches and dents by putting furniture pads on the bottoms of heavy items.