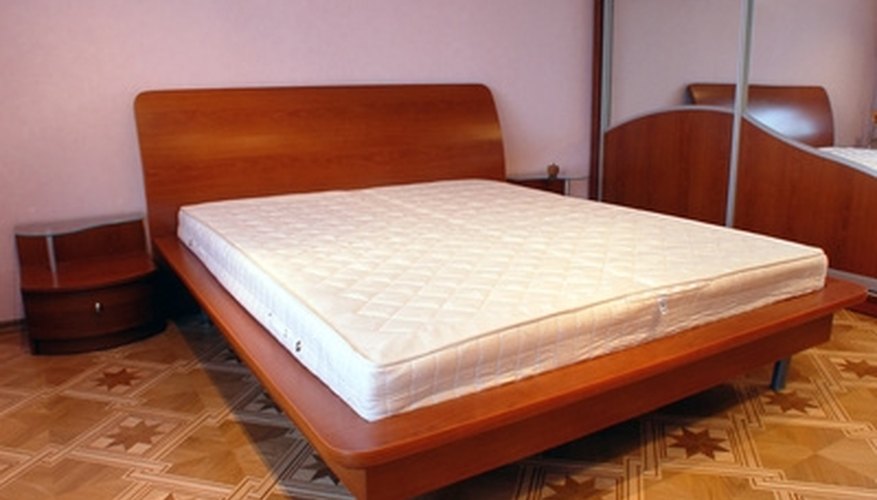 The simple design puts one well within the reach of a budding carpenter's first furniture attempt. The clean lines lend a modern, uncluttered look to the bedroom. Set aside an afternoon for this project, most of which you'll spend waiting for the paint to dry.
Sand all faces of your lumber. It doesn't have to be polished smooth, but you want to avoid splinters and snags for both people and your mattress.
Lay two beams on their 2-inch wide faces. The beams should be parallel, with ends aligned and their outside edges 75 inches apart. Lay the third beam at the center point between the first two beams, also parallel to and aligned with the other beams.
Set the plywood sheet on top of the beams. Its 54-inch edges should align with the outside edges of the outside beams. Its 75-inch edges should align with the ends of all three beams.
Screw the plywood in place with three wood screws spaced evenly along each beam. Aim for the midline of each beam as you drive the screw through the plywood.
Apply a coat of paint to the visible surfaces of the platform. Allow paint to dry according to the package instructions.
Things You Will Need

Plywood sheet, 3/4 inch by 54 inches by 75 inches
3 Beams, 2 inches by 6 inches by 54 inches
9 Wood screws, 2 inches long
Sandpaper
Power drill with screwdriver bits
Paint
Paintbrush
Tip
These plans are for a full-size platform bed. If you want a larger or smaller bed, adjust the dimensions of the plywood and the length of the beams.