How to Wire a Well Pump and Pressure Tank
Well systems and pressure tanks are used to provide water to homes in areas where city water is not available. These systems use various types of pumps to pull water up from a well, pressurize it and push it to the home's water distribution system. The pump is powered by an electric motor which is controlled by a control box. The pressure switch sends power to the control box when the pressure in the system drops below a specific level. At that point, the pump will turn on. Once the specified pressure is reached, the pump will turn off.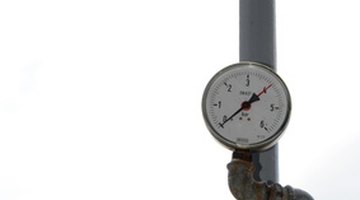 Connect the black, white and red wires from the pump to the corresponding terminals on the control box. The control box may have more than three terminals. Refer to the control box wiring diagram to verify the appropriate terminals to use. There are two or three wires that will leave the control box depending on the type of control box.

Run the wires from the control box over to the right side terminals of the pressure switch and secure them. Depending on where the pressure switch is located and the path to get to it, the type of cable used to feed the pump from the main power panel will change. If the path will be dry at all times, then Romex cable will be fine. If there is a possibility of moisture or the cable getting wet, then use underground feeder (UF) cable which is designed for wet conditions.

Strip 1/2 of an inch of insulation from the black and white wires, and connect them to the left side of the pressure switch. If there is a terminal for a ground wire, connect it.

Run the other end of the cable back to the main power panel. Shut off the main breaker and remove the breaker panel cover. Knock out the knockout on the breaker cover corresponding to where the new breaker will go.

Strip 1/2 of an inch of insulation from the black and white wires. Connect the ground wire and the white wire to the common or neutral terminal bar in the power panel. Connect the black wire to the breaker and then plug the breaker into the power panel.

Turn the power back on and test the system.
References
Warnings
Use extreme caution when working in a power panel.
Writer Bio
William Kinsey lives in Concord, N.C. He started writing articles in March 2009, which have appeared on Autos.com and CarsDirect.com. He currently holds a Bachelor of Science in electrical engineering from the University of North Carolina at Charlotte and a Master of Business Administration from the University of Phoenix. He also has several years experience as an outside plant engineer and planner with AT&T. He also currently owns and operates Sophisticated Curves, an online fashion mall that caters to the needs of plus size women.
Photo Credits
More Articles