How to Wire a Sundance Hot Tub
The electrical wiring of your Sundance hot tub must be in accordance with the National Electrical Code (NEC). Sundance spas must be wired directly using a 240V wire. The spa is designed to run on a single breaker. You must not use extension cords or plug-in connections to power your spa. Avoid getting the terminal box wet, as it may damage the connections. Be sure to use extreme caution whenever you work with electrical devices.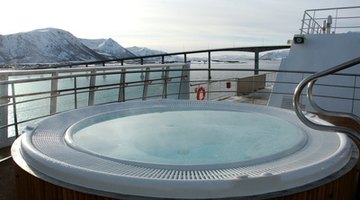 Run a 240V line from the breaker box to the spa location. Set up a breaker inside your electrical panel in your home. It must be a dedicated circuit, meaning that the breaker should only be used for the hot tub. Wire size must be appropriate per NEC and/or local codes. Wire the spa using THHN copper wire. Do not use aluminum wire. Any wire larger the #6 should include a junction box near the spa. The breaker should be a GFCI (ground fault circuit interruptor) unit in the breaker panel of your home.

Remove the four screws on the door of the spa directly underneath the heater controls. Use a power drill with screwdriver tip. This will allow you to access the wiring terminal box.

Remove the grommet in the side of the spa with your hand and feed the wire through the hole in the side of the spa near the wiring terminal box located inside the spa.

Press the release clip on the terminal box lid and open the terminal box.

Connect the wires together, matching colors on the terminal. Use a screwdriver to tighten the connection. Confirm that the screws on the terminal box are tight so the wires cannot come loose.

Close the control box lid. Re-install the spa door face using a power drill.
References
Writer Bio
Living in Utah, Jared Curtis graduated in 2005 with a Bachelor of Science degree from Utah Valley University in Orem, Utah. Curtis is continuing his education in hard sciences to apply to medical school in the future. He began writing professionally in 2010, specializing in cabinet-related articles.
Photo Credits
More Articles