How to Calculate the Amperage of 240 Volts
There are two common types of 240-volt devices in the United States: Those that use single-phase circuits and those that use three-phase circuits. The method of deriving amperage differs among the types of circuits being used, by way of an additional voltage multiplier for the three-phase circuits. Except for this multiplier, each calculation follows Ohm's Law, which states watts will equal volts times amps. By reconfiguring this equation, you can calculate the amperage of a 240-volt system, provided you know its wattage.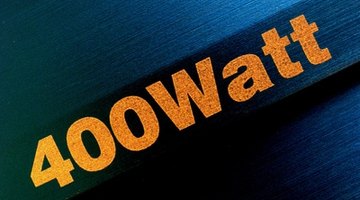 Look on the motor's identification plate, information booklet or specifications. You will need to know the wattage of the device and whether it uses a single- or three-phase circuit. If you cannot find the phase circuit, look at the power connection. Four wires is a dead giveaway that it is a three-phase circuit. If there are only three wires, then it is probably a single phase.

Divide the number of watts by the voltage to calculate the amperage for a single-phase circuit. Since this is a 240-volt device, you would divide the watts by 240 volts. For example, a 1,800-watt device would use 7.5 amps.

Divide this figure by 1.732 to calculate the amps for a three-phase circuit. In the example, 7.5 divided by 1.732 would give you 4.33 amps.
References
Writer Bio
C. Taylor embarked on a professional writing career in 2009 and frequently writes about technology, science, business, finance, martial arts and the great outdoors. He writes for both online and offline publications, including the Journal of Asian Martial Arts, Samsung, Radio Shack, Motley Fool, Chron, Synonym and more. He received a Master of Science degree in wildlife biology from Clemson University and a Bachelor of Arts in biological sciences at College of Charleston. He also holds minors in statistics, physics and visual arts.
Photo Credits
More Articles