How to Seal a Slate Countertop
Slate in most instances is as strong as or stronger than granite. Available in many color variances, the best grade of slate is quarried in New England. The elegance of slate adapts well to the kitchens of today, purveying a minimalist, earthy look. Slate countertops are naturally stain-resistant, but the gray and black tones require sealing. All colors of slate benefit from sealing to protect from staining and minor scratches. After sealing, mild soap is all that is required to keep the slate countertop looking good and performing well for years.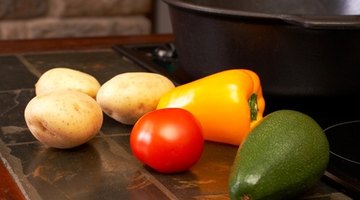 Allow freshly grouted tile to cure for a week before sealing the slate tile. Wash the tile several times with clear water to remove all remnants of grout that remains on the tile. This step is very important because the sealer will seal grout remnants left on the tile making it difficult or impossible to remove and will adversely affect the tile's appearance. Cleaned slate tile must dry for several days before applying the sealer.

Select the type of sealer you wish to use on the tile. Topical tile sealants will remain on the surface of the tile and will wear away quicker than a penetrating sealer, which gives longer-lasting protection for the slate tile. Decide which finish you prefer for the slate tile. The choice for sealer finishes range from glossy, wet look or matte. Matte retains the most natural appearance for the slate tile. Water-based polyurethane sealants have a lower level of fumes and will not crack or yellow.

Wipe on a thin coat of sealer with a clean terry cloth towel and allow it to dry the recommended time before applying a second coat of sealer. Maintain good ventilation in the room because all sealers regardless of type have some fumes. Dependent upon the usage of the slate countertop, plan to reapply the sealer at least once a year.

Maintain the countertop by using a mild cleaner to remove food residue from the sealed slate.
References
Tips
Use cutting boards when preparing food to avoid scratching the sealed slate countertop.
Writer Bio
Myra Smith has retired from the business world after successfully working as a manager in the accounting field over twenty years. Smith received her education in Texas (high school) and Missouri (University of Missouri) business courses offered by employer. Smith has now embarked on an exciting second career as a writer for Demand Studios. Smith writes articles in the Home and Garden section.
Photo Credits
Vegetables on kitchen counter image by Olena Talberg from Fotolia.com
More Articles