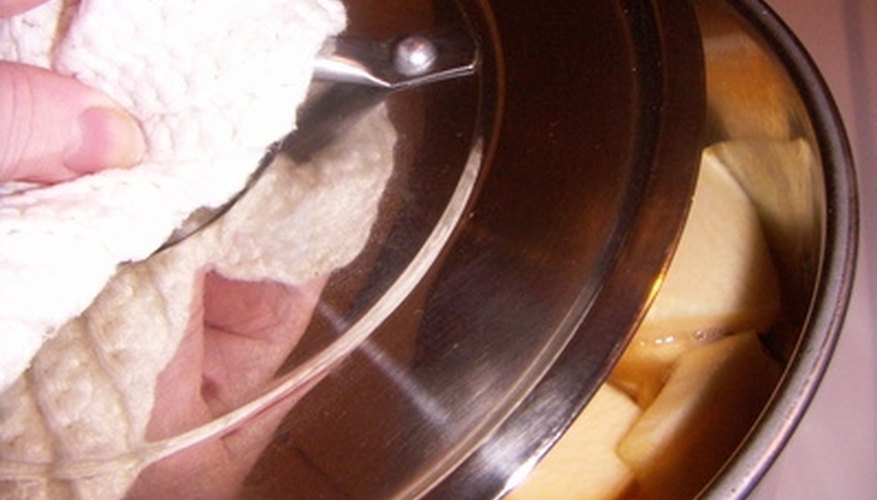 Placing lids upside down on pots reduces the room they take up, but wastes space in cupboards. Placing pot lids in a drawer results in pawing through them to find the right one. If the pot lids have a loop handle, slide the loop down the pan's handle and hang the pots on a pot rack. Organize any kind of pot lids with a rack designed to keep them in order and take the hassle out of storing and finding lids.
Pull out all of the pot lids from the cabinets or drawers and match them up with pots to make sure there aren't any misfits that don't go with anything.
Get rid of any pot lids that don't go with cookware you actually use. Likewise, get rid of pots and their lids that haven't seen active duty in over a year; consider donating them to a shelter or other charity. Having only the number of lids you need makes storing them easier.
Count the lids. Select pot-lid racks that will hold the number of lids you have. For example, if a pot-lid rack you're considering holds five lids and you have 10 lids, buy two of the racks.
Load the pot lid racks with large lids at the back and smaller lids at the front. If you have two or more pot lid racks, place the lids you use most often in one rack and place that rack toward the front of the cabinet for convenient access.
Things You Will Need

Pot lid storing rack or peg rack available from variety stores, department stores and suppliers of organizers and kitchenware
Tips
Some dish-holding racks will hold pot lids.

If you run across cookware, storage containers and odd bits of stuff you never use, get rid of it. Removing clutter makes day-to-day kitchen chores more efficient.

If the lids are heavy, position the lid holder rack in the cabinet before loading it with lids. Leave room on each side of the rack so the lids will fit and be efficient to remove.

Store skillet lids upside down on the skillet to save space if they are too big for the lid rack.