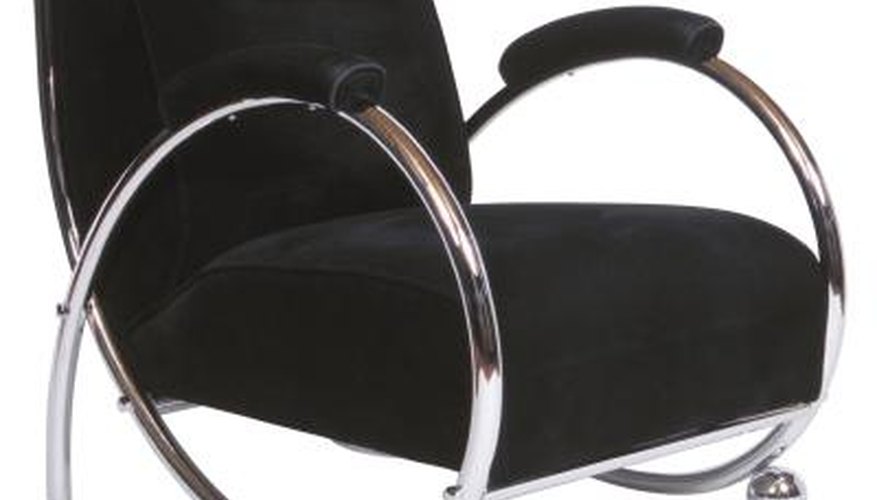 The aged effect is often achieved by sanding the corners and edges of the furniture or using hammers and chains to make dents in the wood. Painting a piece of furniture black and distressing the paint adds a contemporary touch to a room. Whatever piece of furniture you choose, painting it black and distressing it can be accomplished in just a few steps.
Step 1
Lay drop cloths in the area where you plan to spray your piece of furniture so the overspray won't get on the floor, driveway or walls.
Step 2
Remove the hardware or handles from the piece of furniture you are going to paint black. If the piece has doors, use a screwdriver to remove the hinges. Set the doors aside and paint them separately. If you're painting a chair with upholstered seat cushions, turn the chair upside down and use a screwdriver to remove the seat; set it aside, away from the painting area. Put the hardware, handles, hinges and screws in a bowl to save until time to replace them.
Step 3
Spray paint your piece of furniture black, even if it's painted or stained other colors. Put on your safety glasses. To start painting, depress the spray button while using a sweeping motion back and forth, spraying the piece from 12 inches away. Keep moving, and avoid spraying in one spot, or the paint will run. Cover the piece completely with black paint.
Step 4
Let the piece dry according to the paint can instructions. Add a second coat of black paint if necessary and let dry completely.
Step 5
Sand areas along the edges and corners of the furniture with the fine-grit sandpaper, being sure to wear your safety glasses. If your project is a chair, sand the corners and tops of the arms. For a chest of drawers, also sand the drawer edges. Let the previous color come through, even going down to bare wood in places. Sand as little or as much as you wish to get to your desired black distressed look.
Step 6
Vacuum the entire piece of furniture with your vacuum cleaner and the soft brush attachment to remove all the sanding dust.
Step 7
Wax the piece of furniture over all painted and distressed areas, using a clean cloth and clear furniture paste wax. This will preserve the distressed look and make the piece easier to clean.
Things You Will Need

Drop cloth or tarp
Screwdriver
Safety glasses
Black spray paint
Fine-grit sandpaper
Vacuum cleaner with soft brush attachment
Clean rags
Furniture paste wax
Tip
You can also gently hit the piece of furniture with a chain or a hammer to make dents in the wood before you start. Be sure to wear safety glasses.