How to Make a Bench From Landscape Timbers
Benches that are made from landscape timbers are some of the strongest benches around. Many people build timber benches to use up scrap from larger jobs, such as a timber retaining wall project. Landscape timbers are green treated and ready for outdoor use. Any bench made from landscaping timbers should last for decades.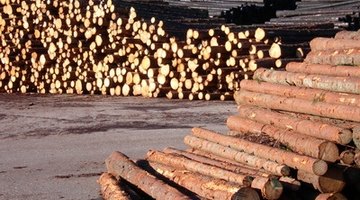 Cut the 96-inch timber into four equal 24-inch lengths using a miter saw. These will be the supports for your bench, positioned horizontally to hold the seat portion of your bench.

Drill two 3/8-inch holes that are 4 inches deep into the 24-by-6 inch surface of two of the 24-inch timbers. Place a timber with the holes in it on top of another 24-inch timber that does not have the holes in it. All four vertical sides of these two timbers should be flush. Screw the timbers together by screwing through the 3/8-inch holes and into the timber that is beneath it. Repeat this process with the other two 24-inch timbers.

Space both sets of 24-inch timbers so they are parallel, standing on their 6-by-24 inch sides, so they are 48 inches apart. Set the 72-inch timbers on top of the 24-inch timbers so they are perpendicular to the 24-inch timbers, and so there is a 6-inch overhang at both ends. Screw the 72-inch timbers to the 24-inch timbers using four screws for each timber. Drill a 3/8-inch hole that is 4-inches deep for each screw.
References
Writer Bio
Brandon Salo is a world-traveling writer, musician, medical technician and English teacher. After earning his degree at Northern Michigan University, he traveled the world while writing, performing as a jazz pianist and teaching English. In 2014 he worked as an emergency medical technician in New York state before he left to travel the world while finishing his first book.
Photo Credits
More Articles