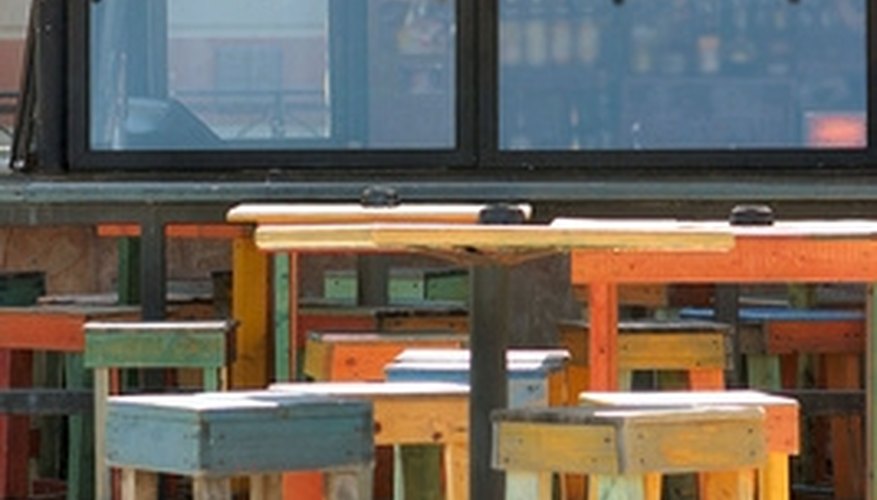 A well-designed table can increase your kitchen's countertop space, provide workspace for kids to do homework, or add extra conversation areas to a room. Start by choosing your desired tabletop, attach the legs and aprons (table skirt), and apply a coat of finish.
Choose your tabletop. There are many sizes and dimensions to choose from at home centers, lumber yards or online. Consider using Baltic birch plywood or a solid wood, which are durable and may be refinished many times.
Measure the apron sizes after purchasing your table legs. Place the legs in the corners of the tabletop and measure the distance between the front and back legs, and between the legs on the left and right sides. These are the lengths of the four aprons you'll use. Make the aprons at least four inches wide.
Attach the legs to the apron by placing the tenon (a piece of wood that sticks out from the edges of the apron) in the mortise (a notch cut into the top block of the leg). Run a bead of wood glue in the mortise before fitting in the tenon. To make sure the legs and aprons fit snugly, order them from the same company and have the mortise be custom cut.
Attach the aprons and legs to the tabletop by placing wood screws through the pre-drilled pocket holes on the top of the apron. Set the aprons back one-eighth to one-quarter of inch from the outside of the legs. Use the screws provided with the aprons.
Apply stain or paint to the table, if desired. Follow the stain manufacturer's instructions
Seal the table. Apply a thin coat of polyurethane sealer with a foam brush. Let dry according to manufacturer's instructions. Lightly sand with a 220-or 240-grit sand paper, then wipe with a tack cloth. Repeat until you have applied three coats.
Things You Will Need

Ready-made tabletop
Ready-made legs (four legs, 36 to 42 inches long)
Aprons (4)
Safety glasses
Drill
6-inch square drill head
Measuring tape
Wood glue
Stain or paint, if desired
Paint brushes
Polyurethane sealer
220- or 240-grit sand paper
Tack cloth
Tips
Always measure twice to make sure your measurements are accurate.

You can choose apron with a square or a beaded lower edge.

You can also create high top tables by attaching a tabletop to a cable reel with two-inch-long wood screws. Put a table cloth over the top and you have an instant table.

Making over flea market finds or old tables is a budget-friendly way to make a high top table as well. Just sand, paint or stain the legs and apron, attach a prefabricated piece of scrap marble or granite, and you're masterpiece is ready for service.