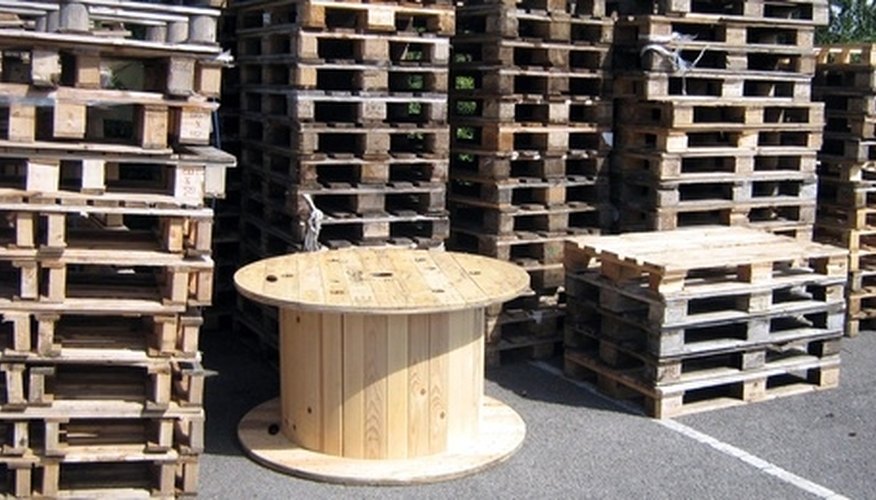 Fortunately, you can save money and help protect the environment by building a do-it-yourself animal shelter from an inexpensive and reusable construction material: the wood pallet or skid. Wood pallets and skids are durable and widely available and they can easily be refashioned into a sturdy animal shelter for a dog, goat, cat or chicken. With the right preparation, you can build an animal shelter yourself in an afternoon.
Lay one wooden pallet or skid flat on the ground in the desired location for the animal shelter. Check to make sure the ground is fairly level.
Lean two additional wooden pallets or skids against each other on top of the base platform to form a triangular frame. Ask a friend to hold the additional wooden pallets in place.
Attach the two wooden pallets at the peak of the frame with L-brackets and 1-inch all-weather galvanized screws. Screw the frame pallets to the base platform with additional L-brackets.
Hold a piece of scrap half-inch plywood against one triangular opening of the animal shelter and trace the triangular outline of the shelter on the plywood with a pencil. Cut out the triangular plywood backing piece with a circular saw.
Attach the plywood back to the shelter with 1-inch all-weather galvanized screws.
Cut a smaller plywood triangle to brace the front of the shelter. Allow plenty of room below the triangle for comfortable entry. Screw this smaller triangular brace to the front of the shelter.
Wrap the exterior of the shelter tightly in a waterproof tarp and staple the tarp in place with a staple gun. Line the interior of the shelter with an old piece of carpet, blanket or quilt.
Things You Will Need

3 wood pallets or skids
L-brackets
1-inch all-weather galvanized screws
Cordless drill
½-inch plywood
Pencil
Circular saw
Staple gun
Waterproof tarp
Carpet, blanket or quilt