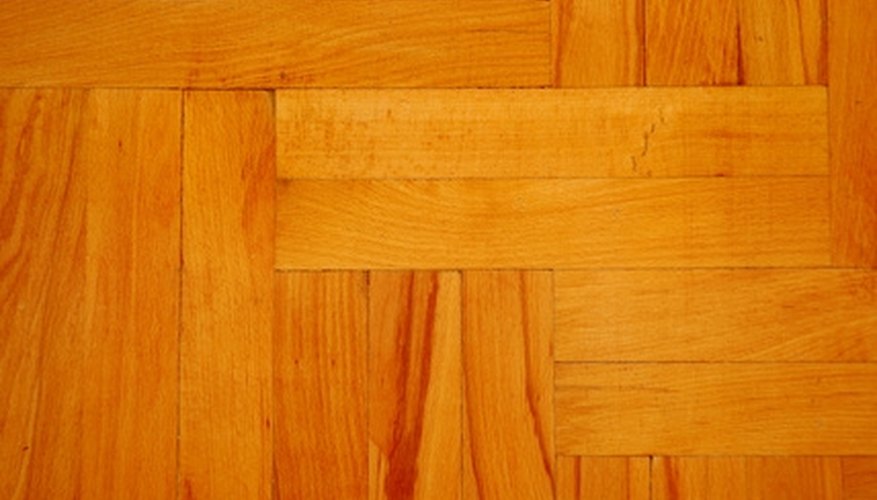 There is an odor from the product while it's wet, but it dissipates quickly upon drying. Varathane Diamond water based floor gloss is a safe wood finish for homeowners to apply to their own wood floors.
Remove any sealers or penetrating finishes that may be on the hardwood by pressing a sanding disk onto the pad of an orbital floor machine and sanding the surface of the wood floor. Sanding disks have pressure adhesive on the backs that will stick to the rotating pads. Sand over all scratches and scuff marks on the floor to achieve a smooth surface and even wood color.
Vacuum the wood floor thoroughly and mop with a mild detergent. Allow floor to dry completely and go over it with a dust mop.
Open all windows in the rooms with the wood floors being treated. Put on protective gloves to avoid skin contact with the wood finish.
Dip a large nylon or polyester brush into the Varathane can and wipe the sides of the brush against the inside lip of the can to remove excess wood finish. Brush the polyurethane finish onto the hardwood floor with strokes in the direction of the wood grain. Cover the entire floor and allow two hours of drying time before applying another coat.
Dust-mop the dry floor before applying an additional coat of wood finish. Apply four coats of the polyurethane finish for effective protection against moisture and scuffs.
Things You Will Need

Orbital floor finisher
Sanding disks
Vacuum
Mop and bucket
Mild floor detergent
Dust mop
Large nylon or polyester paint brush
Rubber gloves, or work gloves
Tip
Use soap and water to wash wood floors protected with Varathane Diamond water based floor finish.