"Paper Jam Inside" Error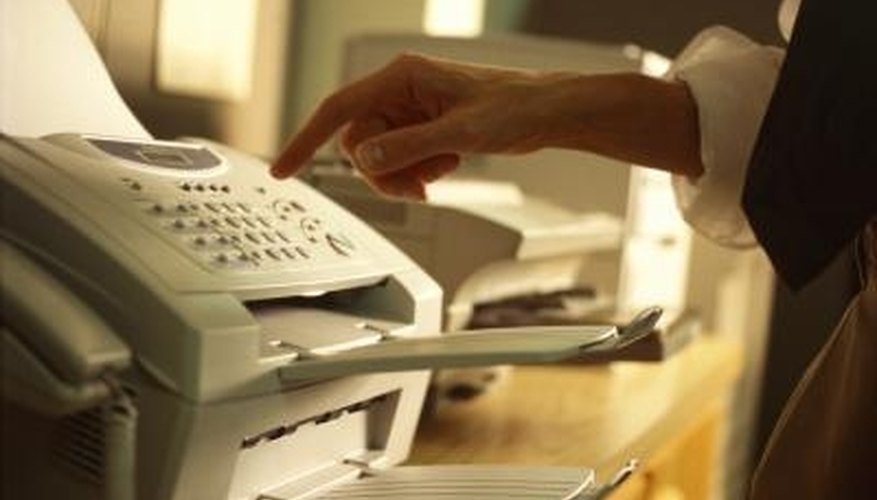 Some Brother fax machines only send and receive faxes, while others can make copies as well. All Brother fax machines can experience problems with transmitting or receiving faxes, as well as feeding paper or documents through their paper roller systems. Whatever the problem, troubleshoot the situation to arrive at a resolution so you can continue using the machine.
Fold down the fax machine's front cover and make sure there is a print cartridge installed inside. If the fax machine is missing the print cartridge, slide a new one inside the machine and close the cover to clear the error.
Pull the print cartridge, if one is installed, out of the machine and set it on a piece of paper. Push down on the plastic lever on the side of the cartridge assembly and pull the toner cartridge free of the drum.
Pull out any stuck pieces of paper from the drum, making sure to remove even small shreds of paper. Slide the toner cartridge back into the drum until the plastic lever snaps back to the up position.
Reinstall the print cartridge assembly in the machine and close the front cover. Take all of the paper out of the input tray and fan through the stack to make sure no pieces are stuck together.
Turn the paper stack over and reinsert it into the input tray. Slide the fax machine's width and length guides so they touch the edges of the paper stack.
Replace the paper in the input tray with paper from a newly opened ream if you experience another paper jam.
Will Not Send Faxes
Look at the device's display screen to see if the date and time are showing. If you see an error instead, address the error issue.
Press the "Hook" button if the display reads "Telephone." If the "Telephone" status does not disappear, check all other phones on the line to make sure none are off the hook.
Press the "Power" switch on the side of the printer if the display screen is completely blank. If nothing appears on the screen, make sure the power cord is plugged into the back of the machine and that any power strips the cord is plugged into are switched on.
Check the phone cord to make sure it is plugged tightly into the machine and the phone jack. Make sure the phone cord is plugged into the jack on the machine labeled "Line."
Lift the handset off the hook on the machine and listen for a dial tone. If there is no dial tone, plug a phone you know to be working into the phone jack to check for a dial tone. If you hear no dial tone, contact the phone company. If you do hear a dial tone, switch the phone cord you have been using with the machine with a new one.