Installing an Invisible Fence Above Ground
You can install an above-ground invisible fence in your yard quickly and easily. Above-ground fences have a boundary wire that is stapled to an existing fence line or placed on the ground.
This type of fence could be useful for a dog-owner whose yard has a fence incapable of containing a dog because the fence is merely decorative, too low or has a gap at the bottom.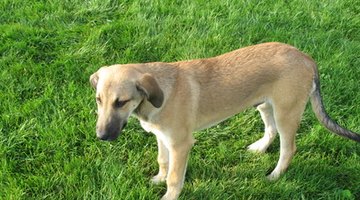 Step 1
Install the invisible fence transmitter in a place that will keep it out of the weather, has a source of electricity and is near the yard to be fenced. A garage, shed or covered porch works well. The transmitter will need to be plugged into an electrical outlet. Not all kits come with hardware to hang the transmitter, so you may need to provide your own screws.
Step 2
Lay out the boundary wire for the invisible fence in the yard you will use to contain your dog. The wire will need to run in a continuous loop that starts and ends at the transmitter box. To create a break in the fence for the dog to enter the boundary, twist the wire at least eight times across the entrance point. For example, if you need to create an opening in the fence to get from the house to the yard, twist the wire where you want the dog to pass through safely.
Step 3
Plug the wire into the transmitter and turn the system on. Test the system by holding the collar in your own hand and waving it near the wire. Check the owner's manual for your particular system -- some kits come with a test light for the owner's use that attaches to the collar. Make any adjustments to the boundary now, before stapling the wire in place.
Step 4
Staple the boundary wire to the ground with a sod staple or to an existing wooden fence with a staple gun and heavy-duty carpenter staples. You can also attach the wire to a metal fence with twist ties. Secure it every 6 to 10 feet, keeping it flush with the ground or fence.