How to Get Rid of Carpet Bees
Carpenter bees look like bumble bees but they nest in wood instead of the ground. This wood can include the wooden parts of your home's exterior (i.e., decks, porches and awnings). Carpenter bees drill what looks like a perfect 3/8-inch hole into wood. The queen bee begins laying eggs at the end of the tunnel and moves toward the tunnel's entrance. These nests can produce more carpenter bees year after year, so it is important to get rid of them.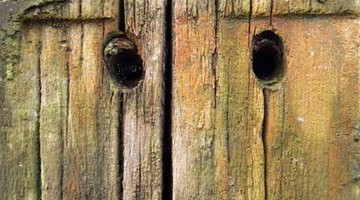 Locate the holes that are being used by the carpenter bees. A good indication that a hole is a carpenter bee nest is that you haven't noticed the hole previously; it looks like it was made by a power drill; or you've noticed bees flying around it.

Dust the inside of these holes with a pesticide. This targets the carpenter bees, since they can't go in or out of their nest without exposing themselves, and makes sure nothing outside of the hole is exposed to the poison.

Seal the holes after applying the pesticide so that even if you kill the nests' current residents more will not move in. If you simply seal the hole without using a pesticide, the bees will eat through whatever you sealed the hole with to reclaim the nest. Or, they may just make new holes in your home. Take one or more of the following steps as additional precautions.

Paint thickly over the exposed wood. This will discourage the bees, but carpenter bees still might eat through the paint to get to the wood below. Mix a liquid pesticide into the paint to reduce the risk of carpenter bees eating through the paint.

Cover exposed wood areas at risk of infestations with vinyl covering.

Treat exposed wooden areas with a pest repellent, reapplying at intervals that vary from product to product. While this is a time-consuming and never-ending precaution, when these products are used properly they can keep carpenter bees from trying to attack your home in the first place.
References
Tips
When applying dust to holes, it is best to use an insertion tool. Applying the dust to holes with a vertical entrance can be difficult, and it allows you to get the dust deep enough into the holes for maximum efficiency.
Warnings
Do not seal carpenter bee nests without first applying pesticide. If the nest's exit is sealed, the hatched larvae will simply pick a direction and drill a way out. This can either be outside through your seal or into your home.
Pesticides can be dangerous or lethal to humans if used improperly. Choose your pesticides with the assistance of someone who is familiar with the products and make sure to follow any and all precautions for your own safety.
When the extent of an infestation is bad enough, taking care of the carpenter bees will require pesticides that are not available for sale to the general public. If your infestation constitutes a daunting number of holes, then it is best to call in a pest control specialist.
Writer Bio
Micah McDunnigan has been writing on politics and technology since 2007. He has written technology pieces and political op-eds for a variety of student organizations and blogs. McDunnigan earned a Bachelor of Arts in international relations from the University of California, Davis.
Photo Credits
Verwitterte Holzâ€"Augen image by Marem from Fotolia.com
More Articles