Sleep Number 7000 Directions
Sleep Number beds give consumers the option of adjusting the firmness of their mattresses. According to Select Comfort, the makers of Sleep Number beds, "Your Sleep Number setting is a number between 0-100 that represents the ideal combination of mattress comfort, firmness and support for your body." Couples with different sleeping needs, pregnant women and those with back or muscle pain might benefit from purchasing bed they can adjust to fit their changing needs.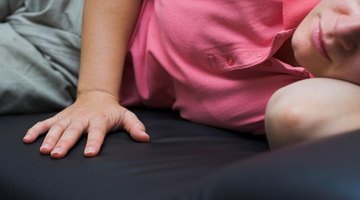 Adjust the firmness of the Sleep Number bed to find your individual comfort level. Dual chamber beds have different settings for each side of the bed. To adjust the right side of the bed, press the "R" button on the remote, then the up or down arrows. The up arrow indicates a firmer mattress setting, and down arrow indicates a softer setting. To adjust the left side of the bed, press the "L" button.

Evaluate your sleep position to determine how comfortable you feel at different settings. For back sleepers, the mattress should support the small of the back. For side sleepers, the mattress should support the curve of the side.

Keep a sleep journal. Increasing or decreasing by units of just 5 or 10, record the comfort of your night's sleep each night until you find a more precise Sleep Number setting.

Try this Sleep Number setting for a minimum of five nights, then reevaluate and make adjustments if necessary.
References
Tips
Contact a customer service representative if you haven't found your Sleep Number setting after four nights.
Writer Bio
Rachel Rosman started writing in 1997 as a movie reviewer for her local newspaper. She currently writes for a Boston-based daily deals website. Rosman graduated cum laude from Brandeis University in 2011, earning a Bachelor of Arts in English literature and creative writing
Photo Credits
More Articles