Beds Similar to the Serta Cloud Nine Bed
Beds similar to the Serta Cloud Nine Bed have a specific set of characteristics that help users rest comfortably. The Hilton Hotel and its affiliates began using the mattresses in mid-2000. Consumers later discovered that three different Serta brand mattresses -- Sweet Dreams, Dream Structure and Tranquil Nights -- are marketed under the Cloud Nine moniker (see Resources).
Plush Topper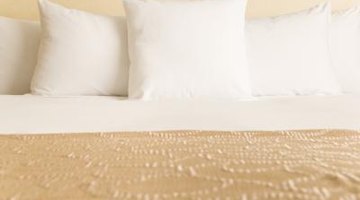 Beds similar to the Serta Cloud Nine bed have a plush topper. Toppers make mattresses more comfortable without sacrificing support. They minimize everyday wear and tear on the unit and alleviate joint pain discomfort. According to bedding experts, plush toppers are soft with a hint of firmness. The topper aligns the body during sleep, encouraging a rejuvenated feeling while awake. Couples are encouraged to use plush bed toppers due to their ability to satisfy different sleep preferences.
Custom Coils
Cloud Nine beds have custom-designed coils that provide additional support in the mattress center. Coils support the user and contribute to mattress firmness. In the past, coil counts were a crucial element to consider when purchasing a mattress. Bedding experts state this is no longer the case but recommend certain coil counts depending on mattress size. Full size mattresses should have 300 or more coils while queen size mattresses should have no fewer than 375. King size mattresses should have no fewer than 450 coils. Purchase mattresses with high coil counts for support similar to Cloud Nine units.
Internal Rods
Look for beds with reinforced edges or internal rods. Cloud Nine units have specialized internal designs that provide additional support to prevent edge breakdown. Mattresses used for a period of 10 years or more have edges that start to slope downward. Breakdown occurs earlier in poorly made units. Creating a firm perimeter prolongs mattress life and provides the user with more sleep area. The Atlanta Back Clinic states surface area is critical to obtaining proper rest. Sleep deprivation and body pains are eliminated when mattresses have proper internal structures.
Measurements
Cloud Nine units have box springs measuring 7.5 inches in height. They are designed to support mattresses that measure 12.5 inches in height. The box spring/mattress combination sits 7.5 inches from the floor, a 4-inch increase from previous models used at the Hilton.. Box springs facilitate getting in and out of bed and minimize mattress wear and tear. The Atlanta Back Clinic does not recommend using new box springs with old mattresses. Know what to look for when searching for beds similar to the Serta Cloud Nine bed.
References
Resources
Writer Bio
Splitting her time between El Paso, Texas and Philadelphia, Penn., Jade Blue began writing in 2009. Blue has written for various websites, specializing in travel-related topics. She holds a Bachelor of Science in psychology from Philadelphia University.
Photo Credits
Jupiterimages/Comstock/Getty Images
More Articles