How to Repair a Broken Window on a Park Trailer
The aluminum windows on a typical park trailer are generally mounted directly to the exterior trailer walls. The window rests on a layer of putty tape and is mounted with a series of screws. To remove and replace a broken park trailer window, first remove the screws from the window frame. Pull the old window away from the trailer wall. Scrape away the old putty tape, adhere new putty tape to the window opening, and position a new window in place. Fasten the window in place with the recommended type of screws.
Removing the Broken Window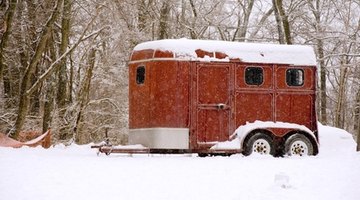 Back the screws out of the window frame. Select the appropriate drill bit, mount it to your cordless drill and set the drill to reverse. Unscrew all of the fasteners from the window.

Pull the old window out of the window frame.

Scrape away the old putty from around the window frame. Use a paint scraper to remove the old material.
Replacing the Window
Run a strip of putty tape around the window frame. Use a utility knife to cut the putty tape to the proper length.

Place the replacement window in the window frame. Press the window's nailing fin into the putty tape.

Affix the window in place with the recommended screws. Fasten the window tightly over the putty tape to create a solid, weather-proof seal.
References
Tips
Putty tape and specialized screw bits may only be available at recreational vehicle supply stores.
Measure the old window to be certain that the replacement window matches the dimensions.
Warnings
Always wear gloves and protective eyewear when working with glass windows.
Writer Bio
Robert Howard has been writing professionally since 2004 and writes a weekly column for the "Synthesis," a Chico, Calif.-based newspaper. He maintains a blog and has published articles and works of fiction in a variety of different print and online magazines. Howard holds a Bachelor of Arts in visual arts from the University of California, San Diego.
Photo Credits
red horse trailer image by studio vision1 from Fotolia.com
More Articles