How to Seal Wooden Water Barrels
Home gray water systems are an easy and economical way to reduce water bills and conserve water for use in the garden. Capturing rainwater and storing it for garden use is also increasingly popular. Using second-hand wine barrels for water storage is an attractive reuse of resources and adds an interesting element to your landscaping. Effectively sealing your wooden water barrel on the inside and outside will preserve its beauty and functionality for years.
Seal the Inside of the Barrel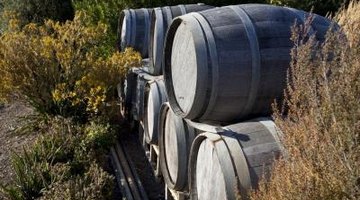 Fill the barrel to the brim with water.

Mark any leaking areas on the exterior of the barrel with chalk.

Empty the barrel of water and allow to dry.

Apply mastic to the corresponding interior sections of the barrel that match the marked locations of the leaks. Allow mastic to cure according to the manufacturer's specifications.

Apply a bitumen sealant to the inside of the water barrel using a paintbrush. Let dry for 24 to 48 hours.
Seal the Outside of the Barrel
Rough up the exterior of the wooden barrel with a medium-grit sandpaper to ensure proper adhesion of the water sealant.

Apply an even coat of the exterior wood sealant using a paintbrush.

Allow to dry for six to eight hours.

Even out drip marks on the first sealant finish using medium-grit sandpaper. Apply a second coat of exterior sealant. Allow to dry.

Sand out drip marks again and apply a third coat of sealant. Allow to dry.

Smooth the finish with fine-grit sandpaper.

Apply a final coat of exterior sealant.
References
Warnings
Apply sealant in a well-ventilated area.
Wear work gloves and protective eyewear when working with sealant.
Writer Bio
Kevin Owen has been a professional writer since 2005. He served as an editor for the American Bar Association's "Administrative Law Review." Owen is an employment litigator in the Washington D.C. metropolitan area and practices before various state and federal trial and appellate courts. He earned his Juris Doctor from American University.
Photo Credits
Anne Stahl/Photodisc/Getty Images
More Articles