How to Make a Light Shade from a Vinyl Record
The 1960s and 1970s are popular decorating themes for bedrooms, basement party rooms and home bars. Whether you're designing a room in flower-power or stayin'-alive style, a record album hanging lamp can be just the right decorating touch. This light is made from a vinyl record album melted into a bowl shape, then turned upside down and turned into a retro lamp shade. These lamps make an authentic retro touch hanging over a jukebox or in a kid's room.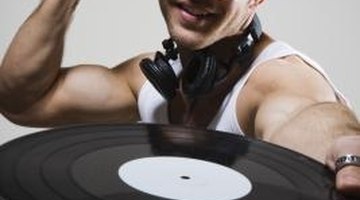 Preheat the oven to 200 degrees Fahrenheit. Place a metal bowl the same size as the album face down onto a metal baking sheet.

Place a quarter in the middle of the album, centered over the hole in the middle of the record. Trace around the quarter with a pencil. Remove the quarter and cut away the record label inside the circle, removing all traces of paper. Turn over the album and do the same thing on the other side.

Lay the album onto the metal bowl. Place the baking sheet into the oven. Allow the vinyl record to heat and soften for five minutes.

Remove the baking sheet from the oven and set it on a heat-proof surface. Use the screwdriver to stretch the softened vinyl in the center of the album to widen the hole. Make the new hole the same size as the circle you traced from the quarter.

Push and fold the edges of the album down over the bowl to create a round shape. Form the record into a bowl shape with fluted, wavy sides. If you want a smaller shade, turn the bowl over and place the album inside.

Work fast, as the album will cool in a few minutes. If you are not finished molding the record before it starts to harden, place it back into the oven for a couple of minutes to soften it again, then take it out and finish the job.

Thread the light plug through the hole in the center of the shade to complete your hanging vinyl record lamp.
References
Writer Bio
Working in sunny Florida, Anne Baley has been writing professionally since 2009. Her home and lifestyle articles have been seen on Coldwell Banker and Gardening Know How. Baley has published a series of books teaching how to live a frugal life with style and panache.
Photo Credits
Jupiterimages/Polka Dot/Getty Images
More Articles