How to Replace Lake Dock Boards
An old wood lake dock is a functional and decorative item. Wood decks are also safer for the environment that other unnatural forms of docks. Most wood docks are untreated for environmental protection reasons, to avoid putting chemicals and other materials in the water that could harm plants or animals. Because of this, the wood can quickly rot or become damaged in some other way, requiring replacement of the dock boards. You can replace the dock boards easily with some new lumbar and nails or screws.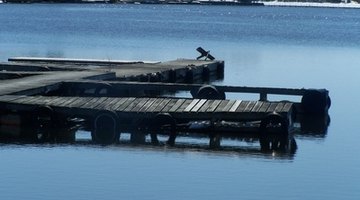 Remove the rotted or broken boards before installing the new boards. If you can get under the dock, hammer the boards up from the bottom. Take a small block of wood and place it near the area where the boards are nailed down. Hammer the block to push the boards out of the way. This creates less stress on the remaining boards than if you hammer the boards directly. If you cannot get under the dock, then use a pry bar to remove the damaged boards.

Remove partial boards by cutting away the damaged portion with a handsaw. Cut the wood around the damaged boards and lift the damaged wood with a pry bar. This also works on wood that is warped, cracked or damaged in some other way. You can cut out bug-damaged wood using this method as well.

Measure the area of the dock that you need to replace. Cut boards to equal the width and length of the now-missing pieces.

Nail the new pieces down with 3-inch waterproof nails. For best results, use nails that have a large head. You can also screw the boards in place, if you do not want to worry about the nails coming loose. Try to use the original nail holes, simply using a wider nail this time. This will prevent the bottom wood from cracking due to too many holes in the support wood.
References
Writer Bio
Brenda Priddy has more than 10 years of crafting and design experience, as well as more than six years of professional writing experience. Her work appears in online publications such as Donna Rae at Home, Five Minutes for Going Green and Daily Mayo. Priddy also writes for Archstone Business Solutions and holds an Associate of Arts in English from McLennan Community College.
Photo Credits
More Articles