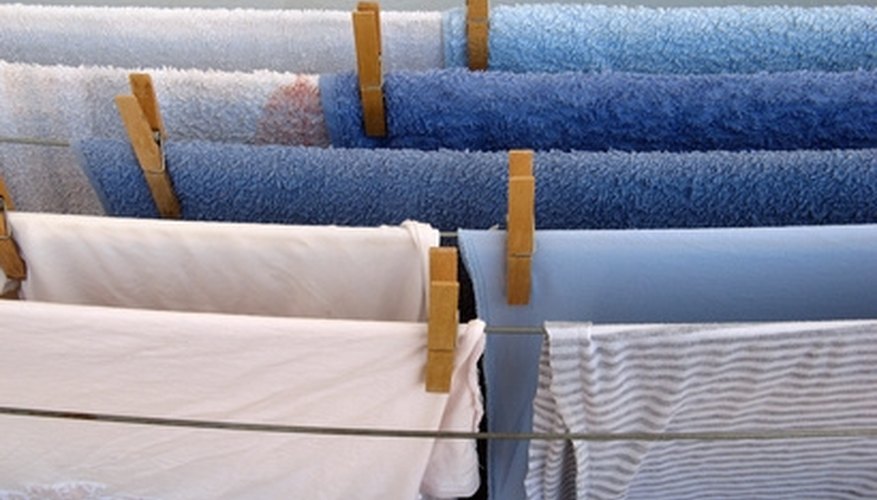 Nothing makes colored clothes look old and worn like faded color or pale spots, but colored clothes -- like whites -- need hot temperatures to kill germs. Luckily, you can use common household products to disinfect and remove odors from your colored clothes without using high water temperatures that damage the fabric or fade the color.
Put your colored clothes into the washing machine. You can use a bathtub or sink if washing by hand. Do not overload your washing machine; overloading prevents detergents and disinfectants from penetrating all areas of the fabric. If you have a lot of colored clothes, separate them into multiple loads.
Fill your washing machine, bathtub or sink with cold water. Cold water prevents colored clothing from running and shrinking. Most washing machines use cold water on a "delicate" or "gentle" cycle.
Add one cup of distilled white vinegar to the washing machine, bathtub or sink. White vinegar had disinfectant properties and the added benefit of brightening and freshening your clothes.
Let your clothes soak for a minimum of 20 minutes in the vinegar/water solution. Stop your washing machine mid-cycle to soak; do not add laundry detergent yet. Agitate your colored clothes for two to three minutes if you are washing by hand.
Rinse your clothes by restarting your washing machine or running fresh cold water. Let the cycle complete or rinse until the vinegar odor dissipates.
Restart your "gentle" or "delicate" cycle and allow your washing machine to refill with cold water. Refill your bathtub or sink if washing by hand.
Add a half cup of vodka to your washing machine, bathtub or sink. The alcohol in vodka acts as a disinfectant and freshener but will not harm delicate clothes.
Add your laundry detergent to your washing machine, bathtub or sink. Use a gentle laundry detergent designed for wool and cashmere to protect all delicate fabrics and help your clothes last longer.
Let your gentle cycle complete. Agitate your clothes in the detergent and vodka for a minimum of 20 minutes if washing by hand, then rinse thoroughly.
Things You Will Need

1 cup distilled white vinegar
1/2 cup vodka
Laundry detergent
Tips
Always do a spot test on delicate fabrics, such as silk or cashmere, to make sure the vodka or vinegar won't alter color.

Separate bright and dark colors. Certain dyes and fabrics have a tendency to run even in cold wash cycles, so wash darks separately to prevent them from staining your other clothes.