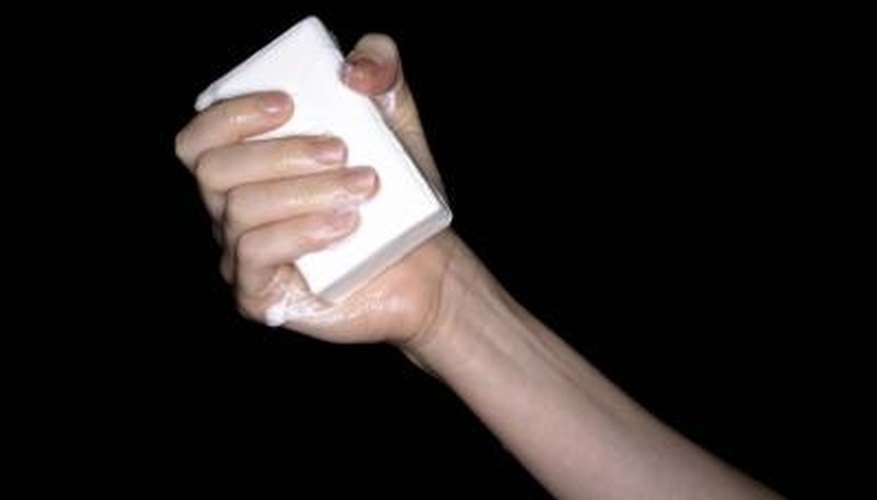 Commercial laundry detergents can be expensive, particularly if you have a large family. Although they create lots of suds, the presence of the suds does not have anything to do with the detergent's cleaning ability. You can make large containers of a powdered detergent that works just as effectively in cleaning your laundry.
Place 1/2 cup each of borax and the washing soda into your food processor.
Cut up the bar soap into four or five pieces and drop it into the food processor.
Grind the mixture until the soap bar is in tiny chunks, about the size of a pencil eraser or smaller.
Store the laundry detergent in a plastic container with a lid.
Use 1 tbsp. of the laundry detergent in a regular wash load. For heavily soiled clothing, use 2 tbsp.
Things You Will Need

Food processor
Measuring cup
Sharp knife
Bar of soap, such as Ivory, Fels Naptha or Zote
Washing soda
Borax
Essential oil (optional)
Tips
Adding the other powders to the food processor before adding the bar soap makes grinding the soap and incorporating it with the other powders easier.

You can use a metal grater to grate the soap finely if you do not have a food processor.

Washing soda and borax are located on the laundry aisle in discount or grocery stores.

You can add a couple of drops of your favorite scent of essential oil, such as orange, lemon or tea tree, if you desire.