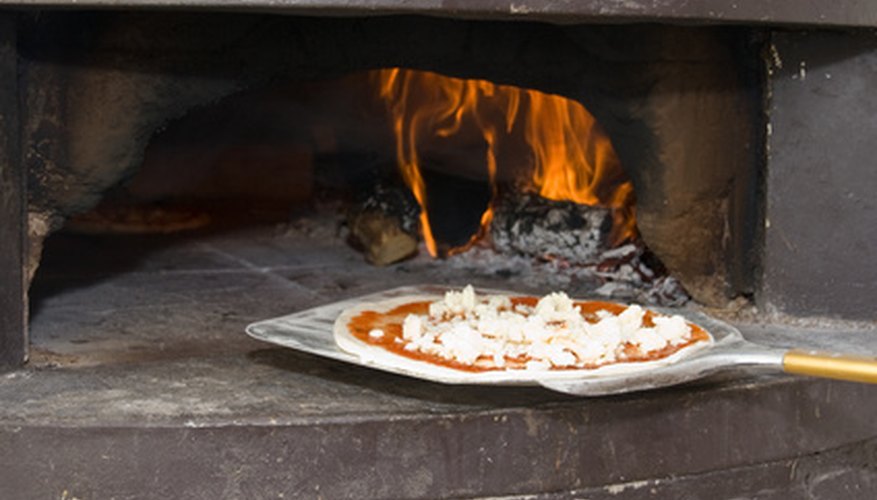 Not only do brick ovens cook at a higher temperature, reducing the amount of time you have to spend waiting for your supper, but they also give the pizza a satisfying taste of authenticity. A custom pizza oven can cost upwards of a thousand dollars, but you can turn your oven into a gourmet pizza oven with the purchase of a few inexpensive fire bricks.
Step 1
Measure the interior of your oven with the tape measure making note of its depth, width and height.
Step 2
Purchase enough firebricks to build an oven within your oven. For instance, if the interior of the oven in your kitchen measures 24-inches wide by 19-inches deep by 17-inches high and the bricks measure 5-inches wide by 9-inches deep by 2-inches high, you will need six split-type bricks for the top of your pizza oven and two straight-type bricks for the sides of your oven.
Step 3
Place one of the oven racks in the top most position in your oven.
Step 4
Lay the six split bricks on the top rack in the oven. Position them so they lay two across and three back. Make sure they are touching and that there are no gaps.
Step 5
Place the other oven rack approximately two grooves down from the top rack. Measure how much room is between the two racks because you need to have at least five inches between them, but you also don't want the gap to be much more than that. Too much of a gap will reduce the heat retention of the pizza oven.
Step 6
Set your pizza stone on the lower rack and make sure the stone is centered below the bricks on the top rack. This will form the floor of your pizza oven.
Step 7
Place the two straight bricks on either side of the pizza stone on the lower rack to form the walls of your pizza oven. Stand them on their sides so that the long sides run from front to back and the short sides run top to bottom.
Step 8
Preheat your oven to the temperature recommended in the recipe and cook the pizza accordingly.
Things You Will Need

Tape measure
Firebricks
Rectangular pizza stone