How to Measure Double Ovens
Double ovens are generally 27 or 30 inches wide. They are most often built-in and conform to industry-wide standards so they will fit in standard cutouts. Spacers are also sometimes used. Spacers allow the oven to be centered, critical for mitigating heat build-up that could result in fire. The cutout depth is critical for proper installation. The cutout depth is the cabinet measurement from the front of the oven--the door--to the back wall. Freestanding ranges with double ovens are rarer than built-in double ovens.
Built-in Double Ovens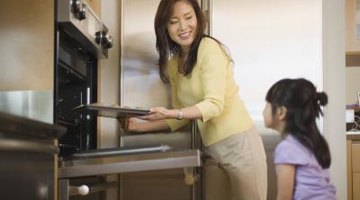 Step 1
Measure the distance between the left side of the oven and the right side. It should be 27 or 30 inches. A 27-inch oven will require a cabinet width cutout between 24 7/8 inches and 25 1/4 inches. A 30-inch oven will needs 28 1/2 to 29 inches.
Step 2
Measure the distance from the top to the bottom of the oven. It should be the same regardless of oven width, usually 50 7/16 inches. It needs a minimum cabinet cutout height of 48 7/8 inches and a maximum 49 7/8 inches--that's a standard cutout.
Step 3
Measure the cutout depth. That's the one measurement where you have to have a critical minimum. A standard oven depth of 24 1/2 inches will need a cutout depth of 23 1/2 inches.
Step 4
Measure the door opening. When the door is opened you need clearance in front of it. At least 21 inches is needed for a door.
Step 5
Measure other dimensions. The back of the oven's width will be different from the front's.
Freestanding Ranges with Double Ovens
Step 1
Measure the distance between the left side of the oven and the right side. It should be 30 inches.
Step 2
Provide adequate clearance between the range and any combustible surface. You will need 1/8-inch clearance between cabinets or walls on either side at the oven level (below 36 inches.) You'll need 1 inch above 36 inches from the floor.
Step 3
Measure the oven depth from the wall with the largest door open. It is likely to be 46 inches. Allow some extra space in front of that for you to stand.
Step 4
Measure from the stove top to the cupboard above it. It should be 30 inches or more for fire prevention.
Tips
Cabinets will need a hole for the cable. You may need to measure the oven to determine the location of the hole in the cabinet.
You can order decorative trim from your appliance manufacturer to fill large openings.
Writer Bio
Patrick Nelson has been a professional writer since 1992. He was editor and publisher of the music industry trade publication "Producer Report" and has written for a number of technology blogs. Nelson studied design at Hornsey Art School.
Photo Credits
Brand X Pictures/Brand X Pictures/Getty Images
More Articles