Opening Size for a 27-Inch Wall Oven
Determining the size of the opening in a cabinet for a 27-inch oven is a relatively simple process. In most cases, the specifications are available in the owner's manual or online. However, if you are renovating and wish to reuse the existing appliances or have purchased a used wall oven, you need the oven's measurements to frame a new cabinet. The rough-cut opening in the cabinet is designed to fit the dimensions of the body of the oven behind the front panel.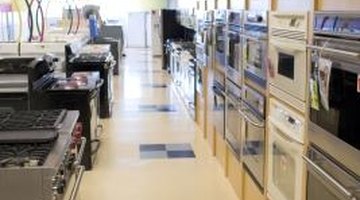 Measure the width of both the front panel and the oven behind it. Generally, a 27-inch oven is installed in a 27-inch or wider cabinet.

Measure the height of the oven from top to bottom just behind the front panel. Oven heights vary, depending on the manufacturer and the type of wall oven such as a double oven or a conventional, convection or microwave oven.

Measure the oven from the back of the front panel to the back of the oven. Generally, this measurement is between 23 1/2 and 23 7/8 inches, depending on the manufacturer. Therefore, the minimum depth of the oven cabinet is 24 inches. With the width, height and depth of the oven, you can now frame the opening in the kitchen cabinet.
References
Resources
Tips
Measure twice, cut once is not just a cliche -- it is an essential step in any building or remodeling process.
Allow 1/4-inch extra space on the top and sides to insert the oven into the cabinet.
Use 2-by-4-inch boards underneath the oven to provide support; ovens are heavy.
If installing the oven next to a side wall, allow at least 1/4-inch space between the door and wall.
Warnings
Do not try to lift a wall oven without at least one helper.
Check for fit before installing the gas or electric connections.
Writer Bio
With degrees in fine and commercial art and Spanish, Ruth de Jauregui is an old-school graphic artist, book designer and published author. De Jauregui authored 50 Fabulous Tomatoes for Your Garden, available as an ebook. She enthusiastically pursues creative and community interests, including gardening, home improvement and social issues.
Photo Credits
Creatas Images/Creatas/Getty Images
More Articles